Call it a "knowledge exchange" between the UConn Health Center's oral pathologists and an oral and maxillofacial surgeon from Africa.
For the past four months, Dr. Ozoemene Obuekwe, dean of the University of Benin's dental school in Benin City, Nigeria, was a visiting faculty member at the UConn School of Dental Medicine.
"For someone to come from so far away to spend this kind of immersion time is a very rare thing, especially since Dr. Obuekwe is in a different specialty," says Dr. Ellen Eisenberg, chair of the Section of Oral and Maxillofacial Pathology.
Obuekwe says, "As an academic, one hopes that there will be a point in your career where you can step out to see what others are doing, to share knowledge and to gain insights. Having had the chance to spend time with the oral pathologists, immersed in what they do on a daily basis, it is obvious that our respective specialty areas do go hand-in-hand."
Most of Obuekwe's time was spent with Eisenberg and Dr. Easwar Natarajan, an assistant professor in the Division of Oral and Maxillofacial Pathology. Eisenberg says Dr. Obuekwe contacted her via e-mail more than a year ago, asking if he could take a sabbatical with her, after Eisenberg's writing and role as section editor for pathology for the Journal of Oral and Maxillofacial Surgery caught his attention.
"I felt that shadowing Dr. Eisenberg and her associate, Dr. Easwar Natarajan, would be a valuable experience for me as an oral and maxillofacial surgeon, and that this interactive time would give me a fresh perspective about my own work," Obuekwe says. "This has improved my understanding of the basis of oro-facial diseases and their diagnoses."
A surgeon's perspective "Dr. Ozo," as he became known at the Health Center, attended didactic sessions and clinical pathological conferences, and spent time in the dental clinics and at the microscope observing and assisting the pathologists in solving diagnostic problems.
"It's good to get a surgeon's perspective on the approach to treating various diseases and also their approach to obtaining diagnoses," says Eisenberg.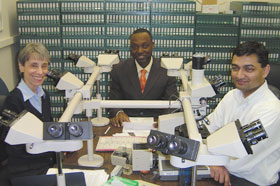 Dr. Ozoemene Obuekwe, center, with Drs. Ellen Eisenberg and Easwar Natarajan. Photo by Izabela Rak
Obuekwe also sat in on seminars with oral surgery residents, and spent time with them in their clinics and operating rooms, where, he says, he learned new techniques and contemporary approaches to practice in the field of oral and maxillofacial surgery.
It was Obuekwe's first visit to the United States.
"In Nigeria, the access to dental care could be better," Obuekwe says.
"This is partly due to fewer dentists per capita and limited health insurance. Part of what I intended to share with UConn is to bring another, very different perspective concerning the treatment of patients with oral-maxillofacial diseases."
Eisenberg says she learned from Obuekwe, too.
"He understands what's happening at the tissue level, what makes something look the way it does or behave the way it does. He's also aware that there are certain conditions he doesn't usually see or treat because he's a surgeon, but we've seen them and have our own approach to their diagnosis and management."
Obuekwe hopes that his stint as a visiting faculty member at the UConn Health Center represents the beginning of a long-term relationship between the dental schools at UConn and the University of Benin.
"The most important realization to take back is that truly, the world has become a global village," Obuekwe says. "The era of being cocooned in your locality is over. There is much to learn from each other."