Scientific metaphors are essential to helping non-scientists understand what the technically astute are talking about, but you have to be aware of where their limits are.
That was how Peter Galison, keynote speaker, characterized a panel discussion March 27, during the Day in the Humanities at UConn.
Humanities Day this year focused on "Imagining, Performing, Writing Science" as part of UConn's Year of Science celebration.
Galison, the Joseph Pellegrino University Professor at Harvard, a specialist in the history of science, along with the co-hosts of WNYC's popular Radio Lab program, Jad Abumrad and Robert Krulwich, joined UConn faculty in a panel discussion of how scientific metaphor clears or muddies the waters.
Krulwich, who is also a science correspondent for National Public Radio, earlier told the audience that his aim in interviewing scientists is to get them to explain things so that his cousin, who was glad to escape from her last science class, would understand.
On the Radio Lab show, he said, "We are very careful to take the scientists off their pedestal and treat them as very cool people – and to poke them."
Scientists themselves have developed telling metaphors about their subjects, some non-scientific panelists pointed out.
Carl Linnaeus, known as the father of taxonomy, sexualized plants, giving them male and female parts and "romanticizing" botany, even though most flowers are hermaphroditic, said Nancy Naples, professor of sociology and women's studies, who studies the sociology of gender.
Helen Rozwadowski, associate professor of history and coordinator of maritime studies, said that the metaphor of a "frontier" of science became popular after historian Frederick Jackson Turner in 1893 established the significance of the frontier in American history.
Turner linked westward expansion to American independence, democracy, and progress. Once the West was won, others made science the new frontier for America – ideal because it was endless.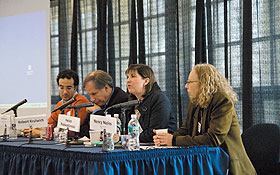 From left, Jad Abumrad and Robert Krulwich of Radio Lab, Helen Rozwadowski, associate professor of history, and Nancy Naples, professor of sociology, take part in a panel discussion during Humanities Day March 27. Photo by Jessica Tommaselli
Geneticist Rachel O'Neill, associate professor of molecular and cell biology, cited the array of metaphors used in her field: cracking the code, the genetic roadmap, the book of life, the obesity gene.
The image of cutting up words from a dictionary and blowing them around in the Houston Astrodome for scientists to catch helps people understand the depth of the information that geneticists have to deal with and the size of the genome, she said.
"I use metaphors daily to relate technical work to society and to students," she said. The placenta becomes a battleground where male and female characteristics fight to dominate. The centromere of the chromosome becomes an elevator, a constant part of the infrastructure no matter what the style of the building.
"I'm describing something no one has ever seen," she said of genes and DNA. "I don't know any other way of doing that except metaphors."
The images that metaphors bring to mind can, in a sense, make scientists "the Picasso or Cezanne of your trade," particularly for concepts that are hard to imagine, said NPR's Krulwich.
"If you could be the author of the protein image that survived – that would be like coming up with Pluto or Goofy or Mickey Mouse."
Matthew Proser, emeritus professor of English, summed up the discussion: "This metaphorical life inter-relates the arts and the sciences. [It is] the rhetoric we're forced to use in order to make apprehensible a point."