He's made a career of becoming involved in poor, urban communities, securing grants to conduct public health research, and establishing community-run institutions and programs to benefit those communities after he leaves.
It goes back to the late 1960s, when anthropologist Stephen Schensul, then with the University of Illinois' Westside Community Mental Health Program, started studying and participating in the development of Chicago's Mexican-American community.
He joined the UConn Health Center faculty in 1976.
Today, as director of the Center for International Community Health Studies in the UConn School of Medicine's Department of Community Medicine and Health Care, Schensul's vision remains the same, but has an international reach.
For most of this decade, his focus has been on preventing the spread of HIV and other sexually transmitted diseases in urban India, most recently among married women in Mumbai. His work involves traveling there an average of three times a year, for two to four weeks at a time, through 2013.
"I've tried to work collaboratively with people in the communities where I've worked, so that the research could be of benefit first to them, and then to the general discipline, and then to policy and program developers and the public health disciplines," Schensul says.
"Research results can then be used by the community to advocate for its needs and for institution-building in the communities."
The research that Schensul initiated in the 1970s is the foundation on which two Hartford health institutions were built.
His work with Hartford's Hispanic community and with the Charter Oak/Rice Heights Public Housing Tenants Association contributed to the establishment of the Hispanic Health Council in 1978 and the Charter Oak Health Center in 1979.
"Both of these institutions continue to be a vital force in the Hartford community and are nationally recognized as models of community-based institutions committed to improving the health of underserved communities," says Martha Bojko, a research associate in the Department of Community Medicine and Health Care.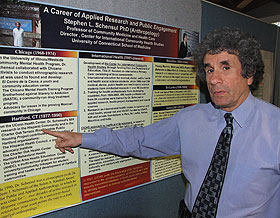 Stephen Schensul, director of the UConn School of Medicine's Center for International Community Health Studies. Photo by Chris DeFrancesco
Schensul's research began taking a global turn in 1981, when he helped establish the Center for International Community Health Studies (CICHS), which has emphasized research and graduate education in international primary care and training for health professionals from developing countries.
His continued his involvement in Hartford during the 1980s, expanding his focus on international health when he became director of CICHS in 1986. In the late 1980s and 1990s, the Center's research expanded to Sri Lanka, Kenya, and Mauritius, and its continuing education program attracted health professionals to UConn from 69 developing countries.
His work in India began in 2001 with a grant from the National Institute of Mental Health to study the prevention of HIV and other sexually transmitted diseases among men in Mumbai.
"I just did a paper that showed our focus on disseminating findings directly into the community as our first priority and its impact on the development of new community action groups that could sustain the work," Schensul says.
"Sustainability is a major issue in health and development. Unless research and intervention connects with the culture and dynamics of a community, and people are drawn in and involved, it's not going to continue to be sustained, and then when the project ends, that's that."
In December, UConn Provost Peter Nicholls presented Schensul with the Faculty Award for Excellence in Public Engagement.
In her nomination letter, Bojko wrote, "As an applied anthropologist, Dr. Schensul has been dedicated to working together with local communities in the research process and disseminating research results to community residents and policy makers. Much of his work has focused on the founding of innovative community-based institutions that give voice to the needs of underserved communities."