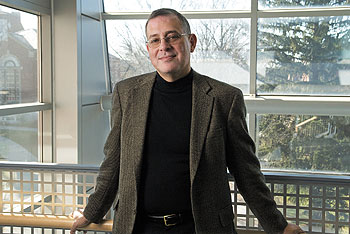 Jeremy Teitelbaum, dean of the College of Liberal Arts and Sciences. Photo by Frank Dahlmeyer
Photo Extra
Students set up a cardboard box 'home' for a sleepout on Dow Field on Nov. 18, part of a week of activities to raise awareness of homelessness. Photo by Jessica Tommaselli
December 1, 2008 ¦ Volume 27, No. 14
Framework announced for hospital collaboration
As part of the ongoing process to explore affiliations with regional hospitals, University officials have released a conceptual framework document that calls for significantly enhanced ties between the UConn Health Center and Hartford area hospitals. Read more...
First Austin Chair named
Kathleen Segerson, a professor of economics in the College of Liberal Arts and Sciences, has been named by the Board of Trustees to fill the Philip E. Austin Chair for a three-year term. Read more...
UConn professor, administrator to become dean of Neag School
Thomas DeFranco, associate dean of the Neag School of Education, has been named dean for a five-year term, starting in summer 2009. Read more...
Engineering dean's experiment to be tested at space station
In the coming decades, astronauts are expected to travel in space for long stretches of time. That's why new methods are needed to prevent what would be a catastrophe aboard a shuttle or space station: fire. Read more...
More headlines...

Multimedia...

RSS Feed of the UConn Advance

News Links

UConn News | UConn Health Center News | UCONN Magazine Athletics News

How To...

Suggest a story idea: please send e-mail to advance@uconn.edu, with "Story Idea" in the subject line. Please give as much notice as possible, and at least two weeks. Requests will be considered based on relevance to a broad audience and the availability of resources.

Have an event listed in the Advance Calendar section: please enter it online at events.uconn.edu at least two weeks prior to the date of the event. Please note that the Advance Calendar contains only events occurring during the week beginning with the date of publication.

Request permission to re-use a story or photo: please send e-mail to advance@uconn.edu, with "Re-use Request" in the subject line.

Make a change to the mailing list, please send e-mail to advance@uconn.edu, with "mailing list update" in the subject line. Please note that the Advance does not maintain separate mailing lists, but uses the databases maintained by the human resources departments at Storrs and at the Health Center. If you do not have access to e-mail, please send your request in writing to Advance, University Communications, 34 North Eagleville Road, Storrs, CT 06269-3144, or by fax to 860-486-2063, or call 860-486-3530.