When the charismatic Boston Pops conductor Keith Lockhart visited the Connecting with the Arts class at Jorgensen Center for the Performing Arts, the students had a lot of questions.
How did he become a conductor? What were some of the unusual things he had experienced? What does he like about his job? Is he composing anything right now?
Lockhart's answers were full of surprises. He had an ordinary childhood in Poughkeepsie, N.Y., with parents who had grown up in the Great Depression and were determined to provide for their children the things they had missed. So Lockhart started piano lessons when he was seven. He added clarinet in the high school band.
When he went to Furman University, a private liberal arts college in South Carolina, he tried to prepare for "a real job" as a lawyer, but found he really wasn't interested in it and decided to go into music.
An instructor observed that Lockhart seemed to enjoy the teaching and interpretation of music more than playing the piano, and advised him to study conducting. And that's how he became a conductor.
Learning to appreciate the arts
This encounter with America's best-known conductor was just one of the many arts-related experiences for students in the class, a First Year Experience course for non-arts majors organized by Jorgensen director Rodney Rock.
"The University of Connecticut has an amazing array of options to offer students who want to explore the arts," says Rock. "Once the students realize that they have some outstanding opportunities, they have the knowledge to take advantage of all the performances, productions, and exhibitions during the rest of their years here.
"We hope that these students will develop a deep appreciation for the arts and become the audience and advocates for the arts in the communities where they live," adds Rock, who invites an array of School of Fine Arts professionals and visiting guest artists to the class and arranges for students to attend events.
"I have been introduced to some unfamiliar styles of performance, and that has broadened my appreciation for the arts as a whole," says Christina Tobitsch, one of the students in the class.
In the week before Lockhart's class visit, the students traveled to New York to see either Spring Awakening or Young Frankenstein on Broadway.
Those who attended Young Frankenstein met Matt LaBanca, a UConn voice graduate (1998) who understudies the lead role of Dr. Frederick Frankenstein. During opening night, actor Roger Bart injured his back, and LaBanca took over for several nights.
Each class was different.
Most of the students had never seen any opera until music professor Constance Rock brought her voice students to the class to perform four opera scenes.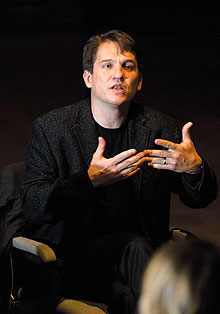 Keith Lockhart, conductor of the Boston Pops Orchestra, talks with students during a First Year Experience class at Jorgensen Center for the Performing Arts. Photo by Frank Dahlmeyer
They also had the opportunity to watch Tibetan Monks from the Namgyal Monastery creating a sand mandala at The Benton Museum, saw exhibits at the Contemporary Art Galleries and the Ballard Institute and Museum of Puppetry, and attended performances at Jorgensen and the Connecticut Repertory Theatre (CRT), all in the School of Fine Arts.
Tameka Geneste, an international business major, says she enjoyed the back-stage tour of CRT and seeing "how the insider puts on a play and all the work that actually goes into making every component work."
CRT director Frank Mack says his goal is to help the students better understand the theatre productions they are seeing. The result, he says, is that "they have acquired an exceptional capacity to engage as audience members in new and exciting ways."
Meeting the artists added another dimension.
"We don't just learn about the artists, we meet them," says Alexandra Young, a pathology major.
In October, virtuoso guitarists Sergio and Odair Assad came to class, in addition to performing at Jorgensen.
"It was great to 'hang out' with professional musicians," says Kyle Horton, a chemical engineering major. "The Assad Brothers were normal people, except for the fact that they decided to dedicate all of their efforts to music instead of any other job."
Universal appeal
In answer to questions from the class, Lockhart noted that music truly is universal, that it exists outside cultural boundaries and doesn't rely on language in order to communicate powerful emotions.
He said he tries to open people's expectations about what an orchestra does by having the Pops perform many types of music – from the great classics to the contemporary and diverse. Lockhart will be back at UConn with the Pops on Dec. 6 for a winter gala performance at Jorgensen.
"Maestro Lockhart mentioned to me that of the many groups he spoke to during his visit to campus, the Connecting with the Arts students had the most thoughtful questions," says David G. Woods, dean of the School of Fine Arts, who invited Lockhart to campus as featured speaker for the Dean Robert H. Gray Memorial Lecture.
"We hope these encounters help students gain rare insights that can add to their own life experiences."