How do you design an effective program to help HIV-positive patients adhere to a complex regimen of life-saving anti-retroviral medicines when the patients don't even have clean water to swallow their pills?
That is just one of the challenges Deborah Cornman, associate director of UConn's Center for Health, Intervention and Prevention (CHIP), faces on the ground as she tries to adapt health behavior change interventions developed at CHIP for use in some of the poorest nations in the world.
Cornman has received more than $1.3 million in grants from the U.S. Department of Defense through the U.S. President's Emergency Plan for AIDS Relief (PEPFAR) to develop risk reduction and anti-retroviral medication adherence interventions for HIV-positive members of the military and their families in Mozambique, Uganda, and Ethiopia.
"Interventions for HIV-positive individuals not only have the ability to improve their care and quality of life, they have the potential to prevent further infections and prevent the creation of drug-resistant strains of the virus that can develop when anti-retroviral medications are not taken properly," says Cornman.
Rates of HIV infection among members of the military in the three countries far outpace the already staggering rates found in the civilian populations there, Cornman says. For instance, 39 percent of military personnel in Mozambique are HIV-positive, a rate two to five times higher than that found in the civilian population.
"Members of the military face unique HIV risk factors and barriers to medication adherence," Cornman says. "However, military personnel in these countries also have a unique advantage: they have far greater access to anti-retrovirals than their civilian counterparts."
Long separations of military personnel from their families for training and deployment and the availability of commercial sex workers near military bases are among the special risk factors.
Additional barriers to medication adherence include difficulty refilling, storing, and taking medications during deployment.
The programs she is designing are based on two interventions developed at CHIP by a team of researchers headed by Jeffrey Fisher, a professor of social psychology in the College of Liberal Arts and Sciences and director of CHIP.
Options for Health enlists doctors and other healthcare providers to play the role of risk reduction counselors during routine clinic visits. The providers are trained to discuss patients' sexual risk behaviors, evaluate their readiness to change, and elicit strategies from them for practicing safer sex. Together, providers and patients craft individualized HIV risk reduction plans for the patients to work on between visits.
The program was proven effective through a clinical trial in Connecticut, demonstration projects in New York and 15 other sites nationwide, and a pilot of a South African version.
The second intervention, Life Windows, is a software program designed to increase anti-retroviral adherence.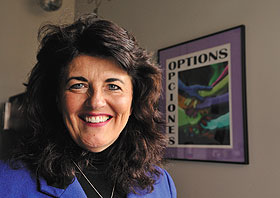 Deborah Cornman, associate director of the Center for Health, Intervention and Prevention. Photo by Peter Morenus
It can be used by patients in physician waiting rooms and features 20 different interactive activities. An NIH-funded trial of Life Windows at five Connecticut hospitals is currently concluding.
With her new PEPFAR funding, Cornman is expanding work she began in Mozambique and Uganda in 2006 and beginning work in Ethiopia.
In Mozambique, she has developed a risk reduction intervention based on Options, which relies on volunteer peer educators instead of doctors, at Maputo Military Day Hospital and Nampula Military Hospital. She will expand the intervention to three additional military hospitals.
At Bombo Military Hospital in Uganda, Cornman has developed a person-delivered anti-retroviral adherence intervention loosely based on Life Windows. She will expand the intervention to Nakasongola Military Hospital and develop a version of Options for both sites.
In Ethiopia, Cornman will work at two military sites in Addis Ababa developing a version of Options at one and an adherence support program at the other.
In all three countries, Cornman collaborates with members of the military, hospital staff, and HIV-positive patients to develop culturally appropriate interventions, and evaluates program effectiveness through patient surveys and biological markers. She also develops training materials and builds a cadre of master trainers who, in turn, train others.
At Uganda's Bombo Military Hospital, group HIV counseling sessions take place in a tent outside the hospital. Because there are no laptops or projectors available, and even paper is scarce, Cornman created reusable 11 x 17 laminated posters with Life Windows screen shots.
"How do you work in such resource-poor settings? How do you make the programs sustainable and build the capacity of the staff to provide these programs once the researchers are gone?" Cornman says.
"What we try to do is to make use of whatever resources are available, because we know otherwise they won't be able to continue the interventions when U.S. aid is no longer available."
CHIP research assistant Caroline Redding is project manager for these grants and CHIP research assistant Beena Azeem provides additional project support.