The Heart Gallery now on display in the Health Center's Keller Lobby is a photo art exhibit featuring children and youth in state care who need an adoptive family. The project blends professional artistry with the goal of raising public awareness about adoption.
"On any given day in Connecticut, there are children in need of an adoptive family," says Susan Hamilton, commissioner of the Department of Children and Families (DCF).
The Health Center plays an integral part in the adoption process through the Adoption Assistance Program (AAP), a DCF-funded program that is housed at the Health Center.
"AAP is a confidential assessment, brief counseling, and referral service available to adoptive families," says Elizabeth Robinson, program director. "The AAP recognizes adoption as a lifelong process and is available to provide families with support for a variety of concerns."
The Heart Gallery began in New Mexico in 2001 as an innovative way to spread the idea and opportunity of adoption.
Professional photographers were asked to donate their time and talent to help foster children find adoptive families. When children gave their permission to join the gallery, the photographers were to capture the spirit and personality of each child.
In Connecticut, photographers Sandy Hale and Christine Breslin heard about the project, approached DCF, and secured the commitment of other local photographers to donate their time and materials.
The Connecticut Heart Gallery was launched in 2003.
The children range in age from infancy to age 18. Some are siblings who want to grow up together. Others have physical, emotional, behavioral or learning challenges.
"All of these extraordinary children have something in common: they want and deserve to be part of a permanent and loving family," says Hamilton, DCF commissioner.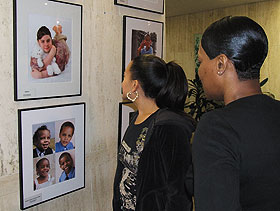 Health Center employees Erika Grant, left, and Tonja Cameron view photos in an exhibit to raise awareness about adoption. Photo by Carolyn Pennington
"It is every child's right to be part of a permanent, loving home, and we hope to make that possible for all the children in need of an adoptive family."
In preparing for the Heart Gallery exhibit, DCF identifies the children available for adoption and consults with them about the program.
If the children agree, DCF contacts a volunteer photographer to arrange a photo session, and a personal profile is prepared for each child.
The photos and profiles are assembled into a traveling photo exhibit that moves from its initial art gallery opening to public exhibition spaces and gathering places throughout Connecticut.
Heart Gallery organizers hope that those who see the children's faces will respond to their dreams.
The results have been promising. Over the past three years, 40 percent of the children featured have found permanent families.
"There's just something about their picture, their face, their smile, their willingness to be a part of this," Robinson says, adding that the children make connections that may help them later in life, whether or not they unite with a family.
The Heart Gallery will remain on display at the Health Center until Dec. 15.
More information about the Adoptive Assistance Program is available on the web: http://oehc.uchc.edu/aap/