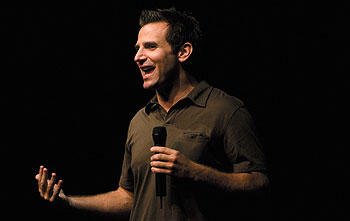 Ross Szabo, director of youth outreach for the National Mental Health Awareness Campaign, delivers the keynote address for Suicide Prevention Week at Jorgensen Center for the Performing Arts on September 9.
Photo by Frank Dahlmeyer
September 15, 2008 ¦ Volume 27, No. 4
University awarded funds for new transportation center
UConn was recently awarded $2 million in funding over four years by the U.S. Department of Homeland Security, thanks to the University's status as co-leader of the National Transportation Security Center of Excellence. Read more...
Reach out for help, says suicide prevention speaker
Almost all those suffering from anxiety, depression, or other mental disorders who seek help recover, according to Ross Szabo. Yet, for any number of reasons, few college students struggling to control their lives ever do. Read more...
Neag school to help low-performing schools as part of coalition
A coalition of state education organizations, including UConn, has pledged to transform eight elementary schools that are struggling to address one of the nation's most perplexing educational problems. Read more...
Public policy experts to evaluate perceptions of disaster risk
The Department of Public Policy (DPP) in the College of Liberal Arts and Sciences is expanding its homeland security research with a new six-year project to evaluate how people perceive disaster risk and how their perceptions affect preparedness. Read more...
More headlines...

Multimedia...

RSS Feed of the UConn Advance

News Links

UConn News | UConn Health Center News | UCONN Magazine Athletics News

How To...

Suggest a story idea: please send e-mail to advance@uconn.edu, with "Story Idea" in the subject line. Please give as much notice as possible, and at least two weeks. Requests will be considered based on relevance to a broad audience and the availability of resources.

Have an event listed in the Advance Calendar section: please enter it online at events.uconn.edu at least two weeks prior to the date of the event. Please note that the Advance Calendar contains only events occurring during the week beginning with the date of publication.

Request permission to re-use a story or photo: please send e-mail to advance@uconn.edu, with "Re-use Request" in the subject line.

For changes to the mailing list, please send e-mail to advance@uconn.edu, with "mailing list update" in the subject line. Please note that the Advance does not maintain separate mailing lists, but uses the databases maintained by the human resources departments at Storrs and at the Health Center. If you do not have access to e-mail, please send your request in writing to Advance, University Communications, 34 North Eagleville Road, Storrs, CT 06269-3144, or by fax to 860-486-2063, or call 860-486-3530.