A major planned gift will support the study and care of lymphoma, related blood cancers, and other blood disorders at the Lea's Foundation Center for Hematologic Disorders at the UConn Health Center.
Allen M. Ward Sr. established a $500,000 charitable gift annuity with the UConn Foundation, in recognition of the care he began receiving a decade ago under Dr. Robert Bona. Bona is now director of the Lea's Foundation Center at the Carole and Ray Neag Comprehensive Cancer Center.
Allen M. Ward Jr., professor emeritus of history at UConn, says his father credits Bona with saving his life.
"When we first learned that Dad had a serious case of lymphoma, we looked around for the best care. Dr. [Peter] Deckers immediately told us to get in touch with Bob Bona. At our first meeting, Dr. Bona looked at the diagnosis and told my father, 'We can cure you.' That was 10 years ago," he says.
"My father and I can't say enough good things about him. He has a wonderful reputation, he takes the time to explain everything, and there's no beating around the bush. Those are traits that you have to have in that line of work to be successful."
Ward says his father took an immediate liking to Bona, and found topics of personal interest to share with him throughout his treatment regimens.
"From the beginning, they were in this fight together," says Ward. "Before long, they were talking about their love of gardening, exchanging seeds and tips, and more."
Ward says he and his father hope that the support will help make the difference in finding future cures and treatments for blood and related cancers.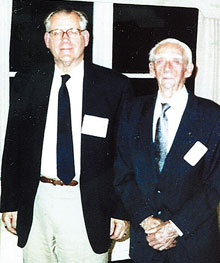 Allen Ward Jr., left, emeritus professor of history, with his father, Allen Ward Sr.
Photo supplied
Bona says such support can be instrumental in science.
"Private support gives us the flexibility to push the envelope in research, and takes us beyond where we might be able to find funding from public and other sources," Bona says, adding that Ward's support offers hope for future generations of patients and researchers.
Allen Ward Jr. said his father was pleased to find a way to make a gift that provided support for the UConn Health Center, and tax and income benefits for himself today. A charitable gift annuity generally involves a gift of cash or securities that is donated in exchange for the promise of lifetime income.
"My father has always wanted to do something to show his gratitude to Dr. Bona," says Ward.
"When we were creating his estate plans, we learned about the concept of the charitable gift annuity. For where my father is in his life and planning, it's an ideal vehicle from all points of view."