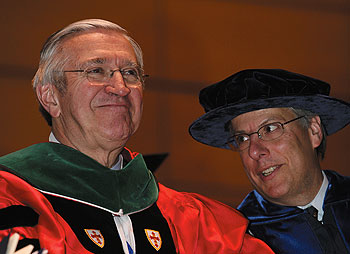 Dr. Peter Deckers, left, executive vice president for health affairs, with Dr. Scott Wetstone, director of health affairs policy planning, during the Health Center Commencement ceremony May 18. Deckers retires this month after more than 20 years at the Health Center.
Photo by Michael Fiedler
News Links
June 2, 2008 ¦ Volume 26, No. 32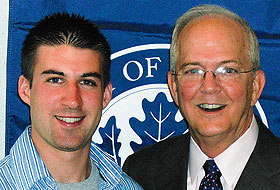 Will the real Mike Hogan please stand up? When President Michael J. Hogan came to UConn last fall, he discovered that his name was already taken as an e-mail address. That's because three students shared his name. Since graduation, just one other Michael Hogan is left on campus, a sophomore majoring in finance. The two are pictured here at Gulley Hall.
Photo by Dylan Seamus
Deckers urges community to give to student fund
Dr. Peter J. Deckers steps down this month from his positions as executive vice president for health affairs at the UConn Health Center and dean of the School of Medicine. Read more...
Prototype program helps bridge gap between lab, marketplace
Entrepreneurially-minded faculty with good ideas have been able to secure funding from a program created by the University's Center for Science and Technology Commercialization and the state Department of Economic and Community Development. Read more...
Nutritional scientist to chair Senate Executive Committee
Nutritional sciences professor Hedley Freake has been elected chair of the Senate Executive Committee for 2008-09. The 10-member committee includes nine faculty and staff representatives who are elected by the University Senate and serve for three-year terms. Read more...
Online events calendar upgraded
A new and improved online events calendar for the University is now available. The latest calendar program offers users the options of creating calendars on their web pages and managing the posting of activities, says Meg Malmborg, manager of the Lodewick Visitors Center and one of the online calendar's editors. Read more...