UConn's Nutmeg Summer Playhouse, founded in 1949, played to sellout crowds from Storrs and neighboring towns for many years.
In 2003, it had to close because of budget reductions.
But now there is growing interest in bringing summer theater back to Storrs, as the University expands its academic offerings during the summer, hosts an increasing number of conferences, and the Storrs commercial district comes closer to reality.
Cultural offerings are expected to help support a local retail sector during the summer months, and also provide enriching experiences for UConn dramatic arts students and the community.
"Summer theater was a beloved institution in Storrs for decades," says David Woods, dean of the School of Fine Arts.
"One of our priorities is to launch a comeback of the summer festival known as the Nutmeg Summer Series, to meet the community's demand for theatrical enrichment and acting students' need for performance opportunities during the summer."
The Summer Series will enhance the efforts and mission of the Connecticut Repertory Theatre (CRT), the primary training ground and performance outlet for the Department of Dramatic Arts.
It is hoped the Summer Series will provide high-quality theater offerings, in repertory, using the combined talents of professional actors and advanced UConn drama students.
Emeritus professor Nafe Katter, who was involved with the summer theater program for most of its 40-plus year run, sees summer repertory at UConn as a valuable tool in training students for a career in theater.
"Students profit enormously from working with professional actors," says Katter.
"Not only do they establish contacts in the professional world, but their individual techniques are lifted to the standards of working actors."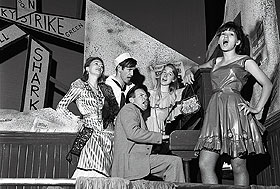 Time of Your Life, a production in the 1966 Nutmeg Summer Series.
Archival photo
Gary English, head of the Department of Dramatic Arts, says that in the five years since the festival was closed, many have forgotten how lively Storrs was in the summer when the Nutmeg series was at its peak.
"We had 15,000, sometimes 20,000 people coming to our shows every summer," says English.
The Nutmeg Summer Series, which will be held in June and July, will include musicals, plays, and small concerts.
The plan for the first summer, in 2009, include two musicals to be performed at the Harriet Jorgensen Theatre and two Shakespeare plays in the Nafe Katter Theatre.
The revival of the summer series will be underwritten in part by the University and with income from ticket sales, but private support is also needed to bring back the caliber of productions enjoyed in the past.
If sufficient funds can be secured by early fall, English hopes to launch an even more ambitious schedule.
"We would really like to create more of a destination program," he says, "where people can see as many as three plays in a week."
For more information about supporting the Nutmeg Summer Series, contact Paul Goldberg, the School of Fine Arts Development Officer, at 646.385.4344.