Scientists at the UConn Health Center are using polymers to produce a new generation of orthodontic appliances that are making their way out of the lab and into the marketplace. In Storrs, a protein is being used to create an artificial retina, and new compounds are being developed to combat the effects of Alzheimer's disease.
Entrepreneurially-minded faculty with good ideas have been able to secure funding from a program created by the University's Center for Science and Technology Commercialization and the state Department of Economic and Community Development.
The program, called the Connecticut Prototype Fund, makes funds available to turn what has been discovered in the lab into a commercial version, or prototype, of the invention or technology, enabling faculty to demonstrate the commercial potential of their inventions.
The fund, which focuses primarily on bioscience, has generated significant new patented technologies and has created a strong pipeline of promising opportunities.
The goal is for these technologies to become a new source of revenue for university research and companies in the state.
Jeff Volek, an associate professor of kinesiology, in collaboration with Genomas, a biomedical company involved with DNA-guided medicine and personalized health based at Hartford Hospital, used a $75,000 Prototype Fund grant to refine and validate diagnostic tests that will predict a person's ability to lose weight or improve his or her metabolic profile in response to a specific dietary intervention.
The tests are based on a proprietary analysis of several DNA and physiological markers, the results of which can be used by physicians to generate personalized diets for the prevention and treatment of obesity, diabetes, and other metabolic disorders.
Ben Bahr and Dennis Wright, associate professors of pharmaceutical sciences, with the asistance of the UConn R&D Corp., have formed a company called Synaptic Dynamics Inc.
Using $75,000 from the Prototype Fund, they have created a family of new proprietary compounds that are being patented by UConn.
The compounds have the potential to prevent the accumulation of plaque on the neural synapse that leads to age-related neurodegenerative diseases, including Alzheimer's.
Another UConn R&D company, New Ortho Polymers Inc., used $36,900 in funds to successfully conduct preliminary testing to assure the suitability and strength of materials for development of more aesthetically pleasing brackets and arch wires used in orthodontics.
Together with the work of the Health Center's Jon Goldberg, professor and director of the Center for Biomaterials in the Department of Reconstructive Services, and emeritus professor Charles Burstone, a team with prior commercial success in the orthodontics market, the prototype funds supported the firm's ability to win a Phase I STTR grant, and a seed investment of $250,000 from Connecticut Innovations, the quasi-state agency that funds emerging technology companies.
Robert Birge, who holds the Harold S. Schwenk Sr. Distinguished Chair in Chemistry, has recently been granted $67,000 to use the protein bacteriorhodopsin to make an artificial retina, by exploiting the special ability of this protein to convert light into an electrical impulse.
The funds will be used to test the electrical impulses coming from the artificial retina, in collaboration with scientists from the Boston Retinal Implant Group.
Such prototypes typically require a relatively small investment and are more likely to stimulate the interest of early stage venture capitalists.
Because most of the research coming out of the lab is at a very early stage, even a rudimentary prototype can prove the concept and remove some of the inherent financial risk needed to attract additional capital from skittish investors.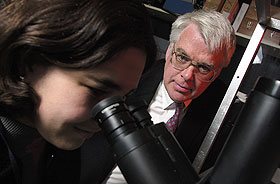 Chemistry professor Robert Birge, in the lab with a graduate student. Birge has a grant to develop an artificial retina.
File photo by Peter Morenus
After the venture capital bubble burst in 2000 and 2001, investors shifted to investing in later-stage companies, particularly those with products closer to market, and thus, less risky. That trend persists.
The 2007 PriceWaterhouseCoopers Money Tree Year End Report said early and seed stage investment totaled $6.4 billion while latter-stage and expansion deals totaled $23 billion.
State officials contend that using state aid to help push more research and expertise from the lab into the marketplace will give Connecticut a foothold in the new economy.
"University-based innovation has been the key to many states' economic prosperity," noted Gov. M. Jodi Rell, when she announced the Connecticut Prototype Fund in 2005.
"This is certainly true with the University of Connecticut. Through small investments in the very early stage of technology development, the state can leverage its strong research university, UConn, for future economic growth and potential job creation."
As the state's only public research university, UConn receives nearly $200 million in research grants annually. Most of that funding is from the federal government for basic science research.
Such federal grants cannot be used to take that science into applied research or to develop a prototype and proof-of-principle of the technology.
"By filling this gap in the funding lifecycle for new businesses," says Joan McDonald, state Commissioner of Economic and Community Development, "we will see economic growth in Connecticut, including new high-tech, high-paying jobs."
University President Michael J. Hogan says, "The state of Connecticut recognizes that investment in research can have economic development potential. UConn can and should be a major economic contributor to the state. It all starts in the lab, with the research."
In order to be eligible for funding, applicants must show that the project can attract additional investment capital to commercialize the technology if the prototype proves successful.
UConn, while relatively new to tech transfer, has had its share of successes in recent years.
Researchers in the Neag School of Education have created a series of tests and teaching materials to identify a student's primary learning style, and are marketing the new assessment tools.
Renzulli Learning, named for Professor Joe Renzulli, Neag Chair of Gifted Education and Talent Development, has 80 jobs, $3.2 million invested, and $3 million in sales.
Health Center research to develop environmentally friendly insecticides from spider venom has attracted the support of Chemtura Corp., a global manufacturer and marketer of specialty chemicals based in Middlebury, Conn. Venomix Inc., the startup formed to exploit this technology, has also received a $5.6 million Series A investment.
OPEL Inc. of Shelton, Conn., a UConn spinoff based on the work of Geoff Taylor, a professor of electrical and computer engineering specializing in photonics, this past year became a public company listed on the Canadian Venture Exchange.
OPEL Inc. has developed and proven a new semiconductor process based on a new system and has licensed all Taylor's current patents.