Last year Sjef van den Berg was told he would spend the rest of his life in a wheelchair.
But thanks to the Neag School's Nayden Rehabilitation Clinic and his own steely resolve, the retired UConn communication sciences professor has been slowly, steadily proving that prognosis wrong.
The 61-year-old van den Berg was critically injured, and his wife, retired UConn professor Antonia Brancia, killed, in a car accident on Long Island in May 2007.
They were on their way to attend the graduation of their son, Pieter, from Long Island University when their vehicle was rear-ended by another traveling at high speed in Old Brookville, N.Y. The driver of that car was arrested and charged with second-degree manslaughter and criminally negligent homicide.
For van den Berg, grief and emotional pain had to quickly give way to his recovery from the spinal cord injury he suffered in the crash, a process that began at North Shore Hospital on Long Island and continued at Burke Rehabilitation Clinic in White Plains, N.Y., where he spent six weeks in difficult, challenging physical therapy.
Van den Berg says he couldn't let the uphill battle defeat him: "That came to me the second night at Burke. It was very simple. I told myself I'm here to do a lot of work, because whatever the alternative is to doing the work is simply not acceptable."
The work continued in Storrs at the Nayden Clinic, under the guidance of physical therapist Richard Bohannon, a professor in the Neag School of Education's physical therapy department.
"Sjef had a lot to build on," Bohannon says.
"He was generally fit, he could move his legs, he had some strength in his lower limbs. We knew we could make progress."
Making progress involved improving van den Berg's trunk strength and his ability to move on the parallel bars, as well as getting him to walk with a walker.
He left the wheelchair behind last October, and from two visits a week to Nayden, van den Berg has now progressed to receiving home care with the help of a vast support network of friends and colleagues.
Now, he says, it's all about "counting the milestones." A recent one was being able to walk in his kitchen, without a walker.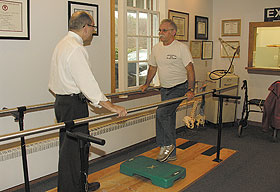 Richard Bohannon, left, professor of physical therapy, works with Sjef van den Berg, emeritus professor of communication sciences, at the Nayden Clinic. Van den Berg was critically injured in a car accident last year.
Photo by Janice Palmer
"Those two steps I took were steps I couldn't have taken a few months ago, and I believe that two will become four and four will become sixteen, and on and on."
But how long is "on and on"? It's a question every physical therapy patient asks and van den Berg is no exception. There's no clear answer.
"Where you end up is a function of where you start out," Bohannon says.
"Sjef started off very well, he never complained, and he continued to show improvement. It also helps that he's an upbeat guy."
But there are moments of anger and sadness too, which van den Berg says are "just part of the package. You can't deny it, so you have to live it, embrace it really. The physical therapy work I do is my lifeline. Dr. Bohannon shows me what I need to do to get there."
While the Nayden Clinic is close to home for van den Berg, he also says it was the best choice for his recovery: "Being an academic, I was attracted to the fact that there is an academic connection here."
Bohannon stresses what he calls "our highly qualified therapists and the strong commitment to evidence-based practice. It's an integration of clinical work, academic research, and teaching."
Through it all, van den Berg says the past year has been one of discovery as well as recovery.
"I found out that I'm a lot tougher than I thought I was or could possibly be," he says.
"I've had great help from my doctors and from the Nayden Clinic. But I also rose to the challenge, and while I don't know if I'll ever be back to where I was before the accident, I do know that I'll work hard to get as close as I can."