Daniel Melchor
by Sherry Fisher
Daniel Melchor grew up in one of the poorest neighborhoods in Mexico City.
"My dad passed away when I was four years old, and my mother raised six children by herself," he says.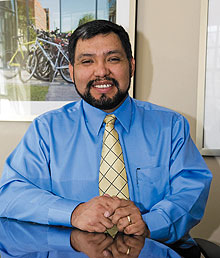 Daniel Melchor, social work
Photo by Frank Dahlmeyer
"It wasn't easy for us, but we were helped by a variety of government programs."
That's why Melchor, who is graduating this month with a master's degree in social work, decided to enter that field.
"I wanted to provide service to others in the same ways that my family was helped," he says.
"Social work was the natural place for doing this."
His area of focus is administration.
Melchor, who holds a bachelor's degree from the Universidad Nacional Autonoma de Mexico, took courses through the Staff Training and Education for the Profession (STEP) program for two years before matriculating in the social work master's program. STEP offers credit courses and non-credit continuing professional education programs.
Before moving to the United States in 2003, he worked for the Mexican Association for Rural and Urban Transformation as program coordinator for a micro-credit program for people with low incomes.
He is currently a case manager for the Supportive Housing for Families Program at The Connection Inc., where he works with homeless people and families at risk of homelessness.
In addition to his full-time job, Melchor is completing a 15-hour a week internship at the School's Center for International Social Work Studies, and chairs the Latin American Student Organization.
He says his experience as the School of Social Work has been wonderful.
"The STEP program really helped me get started and learn about graduate school in the United States," he says.
"I didn't speak English very well, so it was hard to communicate, but the teachers and students were supportive and encouraged me to participate. And when I became a full-time student, the professors were very helpful and allowed me to go at my own speed."
Melchor has served as chair of the Latin American Student Organization. "Latin Americans in the U.S. face many issues regarding immigration, poverty, language, income, and jobs," he says.
"In the School of Social Work, there's a big population of Latin American students who are very active."
Melchor's future plans include pursuing a doctorate related to public policy or international development.
Lynn O'Connor
by Sherry Fisher
Lynn O'Connor has loved being around babies for as long as she can remember.
As a student at UConn, she was able to do just that – at the Health Center's Newborn Intensive Care Nurseries (formerly known as the Neonatal Intensive Care Unit or NICU).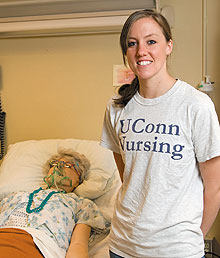 Lynn O'Connor, nursing
Photo by Frank Dahlmeyer
O'Connor, who will graduate this month with a bachelor's degree in nursing, helped develop an evaluation plan to assess a family support program at the Health Center.
She will also graduate as an Honors Scholar.
O'Connor and two other nursing students worked on an evaluation plan to assess a part of the program that offers support to parents whose babies are born prematurely.
The work was done in collaboration with the March of Dimes.
Preemies in the Health Center's NICN are there for months at a time, says O'Connor.
While group support is offered to their parents, a new program offers parent-to-parent support, with volunteers who previously had premature babies in the NICN.
"The volunteers walk around the unit, and offer to talk to parents at their baby's bedside," O'Connor says.
Her team developed an evaluation to assess the effectiveness of the parent-to-parent support program.
It included questions about whether the program helped ease anxiety, fears, and stress.
"We're still collecting data, O'Connor says, "but so far the program is working. I think it works because it's more personal than a group setting. Parents can be intimidated in a larger setting, and don't want to speak up. Also, they can be right at their baby's bedside talking to people who have experienced the same thing."
O'Connor says the nursing program has prepared her well for the profession.
"Nursing students get a lot of experience that prepares us for the real world," she says. "Being hands-on is the best way to learn."
O'Connor has already landed a job working at the Health Center's NICN as a registered nurse starting in July.
She also hopes to return to UConn in the future to pursue a master's degree with a focus on neonatal nursing.
Robyn Fatseas
by Ashley Sporleder, CLAS '08
It was in fifth grade that Robyn Fatseas first realized she wanted to help people.
"I set up a help desk in my classroom during free time and my classmates would come to my desk and tell me life problems, sometimes real sometimes fake, and I would help them come up with solutions," she says.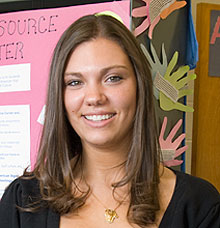 Robyn Fatseas, psychology and American Sign Language/deaf studies
Photo by Frank Dahlmeyer
"I loved it."
Fatseas graduates this month with a bachelor's degree from the College of Liberal Arts and Sciences in psychology and American Sign Language/deaf studies, and a concentration in creative writing.
She is the first student to major in ASL at UConn.
"UConn has given me the foundation I needed to grow," she says.
"The opportunities I have been given here have made my future dreams formulate into a surmountable goal."
After taking an ASL class at a community college in her hometown of Quincy, Mass., Fatseas hoped to find a university that offered ASL classes.
After discovering that UConn has a strong psychology program and offers four courses in ASL, she decided it would be the perfect fit.
However, she admits it hasn't been easy.
"I remember my ASL 101 class here," she says. "I was not at the top of my class, but I worked very hard as I was extremely interested in the language."
Since then, she has played an instrumental role in the development of the UConn ASL program by assisting teaching undergraduate classes, developing independent studies, creating the ASL Club, which teaches members ASL, opening the ASL Resource Center, where students can practice and be tutored in ASL, and instituting Deaf Awareness Day.
For the past two years, she also interned at the American School for the Deaf (ASD), an experience she feels has taught her more than any class or book.
"When I am working in the environment at the ASD, I bask in everything around me," she says.
"I think how cool is it that I have found something I love that I can do for the rest of my life."
She plans to earn a master's degree in mental health from Gallaudet University in Washington, D.C., the first and only deaf university in the world, and hopes to work with deaf children in a clinical setting in the future.
Marshall Dougherty
by Sherry Fisher
When Marshall Dougherty took his first course in the business school's operations and information management department, he was hooked.
"It really clicked for me," says Dougherty, an honors student who will graduate this month with a bachelor's degree in business.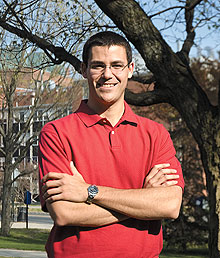 Marshall Dougherty, business
Photo by Jessica Tommaselli
He majored in management information systems.
For his honors thesis, he designed a university information system from the student perspective.
"I looked at HuskyMail and PeopleSoft and brainstormed ideas for how to streamline different processes like course selection," he says. "I also suggested ways to make user interfaces more intuitive."
Dougherty received this year's Outstanding Senior Award in the operations and information management department, and was recently inducted into the School of Business 2008 Student Hall of Fame.
Dougherty, whose GPA is 3.86, says he found his professors "very approachable. In my department, the class sizes, in general, were very small. I got to know almost all my professors on a first-name basis. They were willing to take time out of their schedule to address whatever concerns I might have."
He adds, "Not everyone in my major came in with a lot of IT skills.
The professors allowed you to learn the basics, but if you wanted to take something to the next level, they encouraged you to do that."
Dougherty has been actively involved in campus and community activities: He has been a community assistant in North Campus for three semesters, is a member of the Business Student Leadership Council and a member of the UConn Men's Project through the Women's Center, and is co-president and webmaster of the Information Management Association.
He was also a campus "big buddy" with the Office of Community Outreach, and a health education department peer educator volunteer, and belonged to the Karate and Jujutsu clubs.
"I learned as much from the extracurriculars as from my classes," he says.
"They were a vital part of my development. What makes UConn such a great place is the combination of great classroom instruction and abundant extracurricular opportunities."
After graduation, he plans to join Deloitte & Touche in Hartford as a consultant in the data quality & integrity department.
Phillis Kwentoh
by Curran Kennedy, CLAS '08
Phillis Kwentoh, CLAS '08, is intent on making her mark on the world and she plans to do it through her photos.
Kwentoh, a journalism major with a double minor in human rights and African American studies, will graduate this month.
Phillis Kwentoh, journalism
Photo by Daniel Buttrey
She hopes to pursue a career in photojournalism after college.
Kwentoh came to UConn from North Haven High School.
In October 2007, Kwentoh's work was featured in a juried art exhibit in Brooklyn, New York.
Celebrity photographer Kareem Black was the exhibit's curator.
Kwentoh says the exhibit was a perfect opportunity to display her talent.
"Showcasing my photography in New York City reassured me that I do have a talent that will take me far," she says.
Kwentoh also discovered confidence while on vacation with her family in Nigeria, her parents' native country.
Her mother and grandmother participated in the ceremony of initiation into a women's organization known as Otu Odu (Ivory Society). Kwentoh captured the event on camera.
She is particularly proud of a particular photo that was taken on the second day of the ceremony.
"It's a picture is of a group of kids watching the ceremony take place," she says.
Kwentoh later titled this picture Nwa Ifele, which in the Igbo language spoken by her family means "shy child." It was also the photo that Black chose for the exhibit.
"The ability to tell a story without saying a single word is what attracted me to photography," she says.
Now she hopes to take her interests a step further.
"I want to be a human rights advocate and use my photography to show people what's really going on in the world," Kwentoh adds.
"I want to capture powerful moments. I want people to look at my photos and say, 'I understand what you're saying.'"
Matthew Harding
by Ashley Sporleder, CLAS '08
Matthew Harding has been a landscaper, a member of the U.S. Army, and a prison guard.
Come May, he will add UConn graduate to that list, when he receives a bachelor's degree in English from the College of Liberal Arts and Sciences.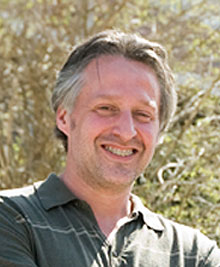 Matthew Harding, English
Photo by Frank Dahlmeyer
For Harding, who is 43 years old, married, and has four children; it has been a long journey.
Although he's had a passion for reading and learning since childhood, college wasn't an option earlier in life.
"I was pretty much directionless," he said. "SATs? What were those?"
Instead, he explored a variety of jobs, including that of prison guard.
He received a public service award from then Gov. John G. Rowland for his work as a community liaison, placing inmates with outside programs such as Habitat for Humanity, before retiring.
"After 20 years, I was more like an inmate than a guard," he said.
In 1988, Harding returned to school, but dropped out in 1989 after he and his wife bought a house.
"I didn't understand how much work and money it was to own a house," he said. "School would have to wait."
But his itch for learning returned when his oldest daughter began attending Bennington College.
"She would come home with books and books," he said. "I was envious of her education. I wanted to know more."
In 2006, he enrolled at UConn, where his decision to major in English resulted in the discovery of an unknown poetic talent.
This year he received the coveted Collins Poetry Prize. He considers it his greatest honor.
Although he admits he's "old enough to be some student's father," he enjoyed his experience at UConn.
"It has given me an opportunity to re-invent myself," he says, "and for that, I am thankful."
His future plans include pursuing a master's degree and a Ph.D.
For those thinking about going back to school, he offers some advice:
"If you're considering it, there must be a reason," he says, "and if there's a reason, you should honor the voice nudging you to do the thing you're apprehensive about, because the voice is usually right and ultimately has your best interest at heart."