Tim Levine
by Carolyn Pennington
As an undergraduate at the College of Holy Cross in Worcester, Mass., Timothy Levine was torn between medical and dental school to further his education.
Levine had always thought he would be a pulmonologist "when he grew up."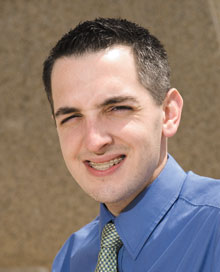 Tim Levin, dental medicine
Photo by Al Ferreira
He suffers from asthma and yearned to help others with the same problem. But he also spent a lot of time in the dentist's chair.
"Asthma medication tends to dry out your mouth and leads to increased rates of decay," he says.
What sealed the deal for dental school was Levine's love of art.
"Aesthetics are involved in dentistry," he says.
"Even medically necessary dental procedures are centered on aesthetics. People want their smile to look good."
Levine graduated with a minor in art, and believes he has "a good eye" and the fine motor skills necessary to make an excellent dentist.
During the past four years, however, he hasn't had much time to enjoy his love of painting and drawing.
In addition to his course work, Levine has been active on both the local and national levels in the American Student Dental Association, a national student-run organization for students pursuing careers in dentistry.
Levine was elected Speaker of the House this year by delegates representing the 56 dental schools nationwide. He has made six trips in the past year to Chicago where the board meetings are held.
His work with the Association also led him to Washington, D.C., where he lobbied legislators on a variety of issues important to the dental profession.
"I have a keen interest in politics and legislation," he says.
"Many people don't realize just how much legislation can impact our occupation."
Some of the issues he's been involved in are declining Medicaid reimbursement rates; increases in student loan funding; and greater education concerning "meth mouth" – methamphetamine addicts often have serious oral health problems.
Levine's penchant for public policy-making likely won't end with graduation. He plans to specialize in orthodontics or oral pathology after completing his general practice residency at St. Barnabus Hospital in the Bronx, N.Y.
But he's also not ruling out pursuing another degree – perhaps a master's in public policy, or a law degree.
"I'm too much of a policy wonk to be a political officer holder," he says, "but working on and influencing legislation is definitely something I could see myself doing."
Sarah Jane Borch
by Carolyn Pennington
Sarah Jane Borch says she had barely uttered her first word when her grandmother made two prophecies: her granddaughter would be tall, and would become a doctor.
While Borch was growing up, her grandmother's predictions seemed way off the mark.
Sarah Jane Borch, medicine
Photo by Al Ferreira
Borch was always one of the shortest kids in her class and she was more attracted to language arts than to science.
She earned her bachelor's degree in English, and went on to work as a high school English teacher, an architectural marketing assistant, and an assistant in a New York City photo gallery.
When she heard from an old friend about the post-baccalaureate program at UConn, which provides an alternative route to medical school for students who have already earned a bachelor's degree, she knew immediately that it was what she wanted to do.
After two years in the program, she was accepted into UConn's medical school, where she eventually chose to pursue family medicine.
She will begin a residency at Tufts University, starting in June.
On her path to becoming a doctor, three programs had a major impact on her.
Before entering medical school, Borch worked at a camp in California for children with life-threatening illnesses. "The kids are really inspiring," she says.
During medical school, she volunteered for the Pick Your Path to Health project, where she mentored female prisoners at York Correctional Institute and coached them in journal writing as therapy.
And recently, Borch participated in the Humanistic Elective in Alternative Medicine, Activism, and Reflective Transformation, a month-long program sponsored by the American Medical Student Association.
"I lived in a Quaker center in the middle of the Redwood forests in California and learned ways to bring more humanism into medicine," she says.
"I love teaching simple mind/body techniques to help people feel better. There are so many different ways to be a healer – medicine is so vast, there's a place for everything."
As this year's Medical School class commencement speaker, Borch says she hopes to represent the variety of people that make up the class.
"Everybody brings something unique and valuable to medicine," she says.
If her grandmother were alive today, she would no doubt take pleasure not only in Borch's accomplishments but also that her predictions came true – her 5'7" granddaughter is now a medical doctor.
Rasy Mar
by Carolyn Pennington
When Rasy Mar celebrated her master's of public health degree during the Health Center's Commencement, she made sure her husband and sons had front row seats.
"I am living the American dream," says Mar, who arrived in this country from a Cambodian refugee camp in Thailand at the age of 13.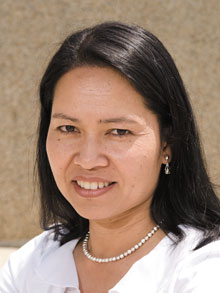 Rasy Mar, public health
Photo by Al Ferreira
She and her family were relocated to Bristol, and Mar was placed in the 4th grade, unable to read or write in either the Khmer language or English.
Ten years later, she graduated with a bachelor's degree from Western Connecticut State University, and applied to UConn to study for a master's of public health (MPH). She completed the four-year MPH program in three years, while working full-time in the medical dean's office.
"To have a job, a family, and the opportunity to get an education, that is a dream," says Mar, who plans to continue her education.
Mar says her experience helped foster her interest in public health.
She remembers her sense of isolation and confusion upon her arrival in this country.
"I struggled with both cultures, my native culture where girls were not given the same opportunities as boys, and the culture in this country that tells girls they can be anything they want to be," says Mar.
Many Cambodians in the U.S. struggle with the aftermath of the chaos they experienced as refugees of the civil war and genocide unleashed by the Khmer Rouge in the late 1970s.
They often suffer from depression and infectious and chronic diseases, as well as experiencing problems related to cultural barriers in this country.
Mar has direct experience with this, because she often accompanies fellow Cambodians to medical appointments to help as an interpreter.
To gather research for her thesis, last year Mar spent six weeks in Cambodia, assessing the health needs of residents of six villages near Phnom Penh. Working out of a small clinic staffed with one nurse and two midwives, she asked villagers about their health concerns and their access to health care.
The information she gathered will be used by the community and the organization that funds the clinic to develop programs to address the most common health problems and to educate the population on sanitation and preventive health care techniques.
Mar hopes to use the skills she gained through the MPH program to work on improving health in Cambodian and other Southeast Asian communities.
Mar was an active member of the MPH student community, organizing workshops on topics such as how to pick an advisor, ways to get involved in international health, and public health career opportunities.
Amy Kokoski
by Sherry Fisher
Amy Kokoski studied mechanical and aeronautical engineering in college, then worked as an engineer at Pratt & Whitney, a division of United Technologies Corp., for several years.
"I enjoyed my job," she says, "but knew that ultimately I wanted a career in patent law."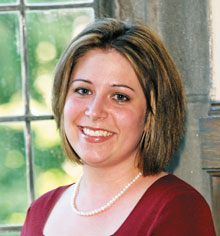 Amy Kokoski, law
Photo by Tina Covensky
In 2004, while working at Pratt & Whitney designing turbine blades, she started to attend the UConn School of Law as an evening division student.
On May 18, she graduated with a law degree with a concentration in intellectual property (IP) law. She also received a certificate from the IP Program.
"I've always liked the thought process and the analysis required behind a technical field, and I also enjoy communicating with people," she says.
"Patent law is a good fit for me, because I utilize my technical background, but also get to employ other skills, such as communication and writing."
Kokoski has been a patent law clerk at McCarter & English LLP in Hartford for eight months, and will become an associate upon passing the Connecticut bar exam this fall.
She says the best part of her law school experience was working at the IP Clinic.
There, she worked with small startup companies and individual inventors and dealt with patents, trademarks, and copyrights.
"I was thrilled when they started the clinic," she says.
"Evening division students don't have much flexibility in their schedules for summer internships, and the clinic gave me an opportunity to gain some of the experience I had missed."
She adds, "When you're just taking classes, you don't get a chance to actually experience what it's going to be like to be a lawyer. Working at the clinic was my first real lawyerly experience, and I was relieved to find out how much I liked it. There's a real difference between book learning and experience."
She says her experience as an engineer has been beneficial to her career.
"It's been a wonderful combination," she says.
"It gave me a better perspective about the inventions that I'm working on, because I understand the technologies behind them. And when inventors find out that I'm also an engineer, it puts a different perspective on things. Book learning is certainly valuable, but the actual work I did as an engineer is probably the portion of my technical background that I utilize more than anything day to day."