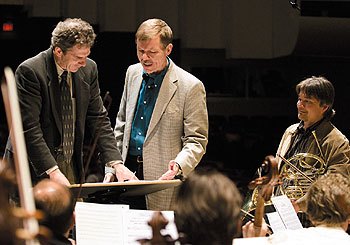 Kenneth Fuchs, a professor of music, center, with Edward Cumming, left, music director of the Hartford Symphony Orchestra, and Richard Todd, principal horn of the Los Angeles Chamber Orchestra, during a rehearsal for the world premiere of Fuchs' orchestral piece Canticle to the Sun, at the Bushnell Center for the Performing Arts in Hartford in April. The composition is on his new compact disc, released earlier this year.
Photo by Peter Morenus
News Links
May 5, 2008 ¦ Volume 26, No. 30
PUBLICATION NOTICE: This is the last weekly issue of the Advance for the 2007-08 academic year. The next issue will be published on May 19. During the summer, the paper is published on a reduced schedule, with biweekly issues in May and monthly issues in June and July. We resume weekly publication in August, at the start of the new academic year.
Steam outage planned in May
A complete steam shutdown at the Storrs campus to enable repairs and maintenance to the system is scheduled to take place from Sunday, May 11, at 11:45 p.m., through Friday, May 16.
It is expected to take a couple of days to restore the system to full capacity. In some cases there will be no hot water available for heat, showers, dishwashing, or lab needs.
If you have questions or special requirements, please call Mike Pacholski at 860-486-0041, or Work Order Control at 860-486-3113 to discuss alternate arrangements.
Psychology professor elected AAAS fellow
UConn psychology professor David A. Kenny has been elected a fellow of the American Academy of Arts and Sciences, a highly coveted spot in one of the nation's oldest and most prestigious honor societies. Read more...
Speaker explores changing concepts of human rights
An 18th-century Connecticut slave who managed to buy his freedom and that of his family is at the center of a new effort by Anne Hiskes to look at the changing concepts of human identity. Read more...
Research Foundation announces spring 2008 'Faculty Large Grants'
The Research Foundation's spring 2008 Faculty Large Grants were announced recently. For the Faculty Large Grant competition, the Research Advisory Council received 61 proposals totaling more than $1.2 million and made 34 awards totaling more than $575,000. Read more...
Mental health conference
A conference on Eliminating Mental Health and Addiction Disparities in Connecticut and Beyond will take place in Rome Ballroom on Tuesday, May 20, from 8 a.m. to 4:30 p.m. Read more...