Lola Odesina
by Sherry Fisher
It's not surprising that Lola Odesina would be drawn to pharmacy: She and her sister were diagnosed with a chronic blood disorder when they were children.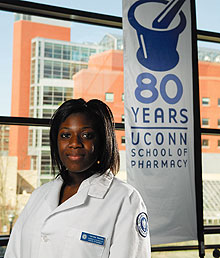 Lola Odesina, pharmacy
Photo by Peter Morenus
"I've been immersed in health care settings for as long as I can remember," says Odesina. "My sister and I have sickle cell anemia, my mother is a nurse, and we've always been around nurses, doctors, and drugs. It's something I find familiar and interesting."
Odesina is graduating with a Pharm.D. degree, earned in a six-year program.
She says the program was "a great learning experience. You're exposed to so much information about the field. The professors are passionate about the subject, want you to learn, are entertaining, and are there for you if you need help."
During their last year of study, pharmacy students are required to do nine one-month rotations in the field.
"The rotations gave me a taste of what it would be like to be a pharmacist in different settings," she says. "My first was in ambulatory care at St. Raphael's Hospital in New Haven. I did another in critical care at Yale, and one in hospice care at the Connecticut Hospice in Branford. I worked with doctors, nurses, and patients."
Odesina says she has enjoyed the "endless opportunities" offered to pharmacy students at UConn.
"Whatever area of pharmacy you're interested in, there's an organization you can join," she says. "It's great for networking and making new friends."
Odesina was a member of Pharmacy Student Government, the Pharmacy Leadership Society (Phi Lambda Sigma), and UConn's chapter of the American Pharmaceutical Association Academy of Student Pharmacists.
She says she enjoyed the job fairs, where pharmacists specializing in different areas come to the University. "They let you know about the opportunities in the field," she says. "Doors are constantly being opened for you."
Odesina, who has worked at a pharmacy in her hometown since May 2006, will be doing a one-year residency at St. Raphael's Hospital.
Nathaniel Bergan
by Sherry Fisher
When Nathaniel "Nate" Bergan took his first engineering course at UConn, he was hooked.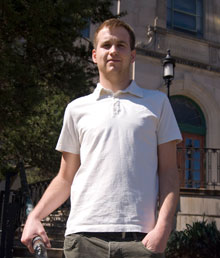 Nate Bergan, civil & environmental engineering
Photo by Frank Dahlmeyer
"The class was about the basic mechanics of engineering," he says, "and it really made me say, 'wow!'"
Bergan will graduate in May with a bachelor's degree in civil and environmental engineering.
He says engineering is a good fit. "I've always had a strong interest in construction and buildings," he says.
"My father is a land surveyor, so I've been around construction sites, bulldozers, and dirt all my life. What I find interesting is learning the mechanics of everything and applying all the mathematics I've learned, and seeing how it works in design and construction."
Bergan got to put some of his school work into practice during Thanksgiving break last year, when he and two other UConn engineering students traveled to Nicaragua as part of the UConn chapter of Engineers Without Borders, a non-profit humanitarian organization that partners with people in developing communities to improve their quality of life.
The trip was to assess how to stabilize a key access road near Granada that is rendered impassable during the country's rainy season.
He and his team came up with a project application outlining all the details; it was just sent to the Engineers Without Borders headquarters for assessment.
A member of Chi Epsilon, the civil engineering honor society, Bergan is also secretary of the UConn chapter of the American Society of Civil Engineers.
This summer, he will work on a UConn environmental engineering research project in Ethiopia, where he will collect rainfall data and investigate possible dam sites on the Blue Nile River.
After graduation, Bergan will head to Columbia University to earn a master's degree in civil engineering.
"After that, I want to do structural design and be involved in projects that will affect a lot of people," he says. "Civil engineering affects the world. It's about what we use every day."
Philip Shaw
by Cindy Weiss
Philip Shaw, who will receive his Ph.D. degree in economics in May, had an unusually strong outcome to his job search for an academic position.
Philip Shaw, economics
Photo by Jessica Tommaselli
Shaw had 18 interviews, 11 offers of trips to campuses, and six offers of tenure-track faculty positions at colleges ranging from Kenyon College – a small, private liberal arts college in Ohio – to Kansas State University, a public university with more than 23,000 students.
In the fall, he will begin teaching economics at Fairfield University, the offer he accepted in order to be close to his girlfriend and other friends in the Northeast.
Shaw said his thesis topic, educational corruption, was particularly interesting to potential employers.
He began working on it as an undergraduate economics major in the College of Liberal Arts and Sciences, graduating in 2004. As an undergraduate, he won a Summer Undergraduate Research Fund award. He went to Ukraine, where he found that 56 percent of students bribed their way to acceptable scores on college entrance exams.
He developed an economic model to examine what this does to economic growth and to educational institutions.
Shaw's undergraduate and graduate adviser Christian Zimmermann, associate professor of economics, says that Shaw gathering his own data firsthand was rather unusual. "He got a research grant, and he just did it. That's how he is," he says.
That firsthand experience with data, and Shaw's extensive teaching experience as a graduate student, helped him in the academic job market, Zimmermann says.
Shaw says he chose an academic career because he really enjoys teaching: "It's something I need in my life."
Several other Ph.D. students in economics graduating this spring have academic job offers, too: Nicholas Shunda received an offer from the University of Redlands in California, and Rasha Ahmed from Trinity College in Hartford.
The economics Ph.D. market is well organized, says Zimmermann, with centralized advertising through the American Economics Association and a national meeting where students and employers schedule interviews.
And, he adds, "Everybody is interested in the best students."
Nikita Lakdawala
by Curran Kennedy, CLAS '08
Nikita Lakdawala, CLAS '08, has combined experience with academics through a double major in molecular and cell biology and an individualized major that she created, health care and social inequality.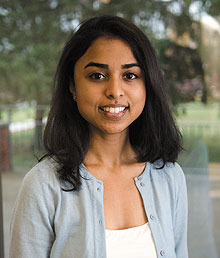 Nikita Lakdawala, molecular and cell biology
Photo by Daniel Buttrey
A graduate of Watertown High School, at UConn she has studied abroad in London; volunteered to serve the homeless and hungry in Boston, New York, and Willimantic; and worked with the underprivileged in soup kitchens and farm fields.
"Even though it's such a large school, I've been able to get involved in community service programs," she says.
Lakdawala's community involvement has given her a new perspective, she says: "It's not the same thing to read about something in a textbook as it is to see it firsthand."
That's why Lakdawala decided to organize her senior thesis around her volunteer work in Willimantic, where she has observed acute care and given health talks to the underprivileged.
"Barriers to health care access and discrepancies between the poor and rich are big issues that need to be tackled," she says.
Ambition to reform U.S. health care led Lakdawala to London for a semester, where she visited hospitals and interviewed doctors.
"I think medicine now involves both medical and social aspects and it's more important now than ever to understand how these work together," she says.
"Studying abroad allowed me to compare two different health care systems and see how they operate," she adds.
"With med school on the horizon, this understanding is important for me."
Next fall, she will begin studying for a medical degree at the UConn School of Medicine in Farmington.