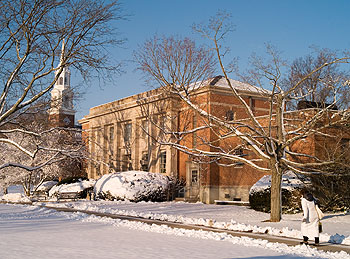 A view of the Ratcliffe Hicks Building after a recent snowfall.
Photo by Peter Morenus
News Links
January 28 , 2008 ¦ Volume 26, No. 17
President's inauguration slated for April 13
The formal inauguration of UConn's 14th president, Michael J. Hogan, will be held on Sunday, April 13, at 3 p.m. in the Jorgensen Center for the Performing Arts. Read more...
Hospital's financial problems continue, officials tell Board
The Health Center administration outlined its ongoing financial difficulties in a presentation to the Board of Trustees last week, advising members that the Health Center is running a deficit of $10.3 million for the first six months of the fiscal year. Read more...
Trustees name three faculty as Distinguished Professors
Three faculty members have been named University of Connecticut Board of Trustees Distinguished Professors: Richard Bass, professor of mathematics; Cheryl Tatano Beck, professor of nursing; and Dipak Dey, professor and head of statistics. Read more...
Center for entrepreneurship celebrates a year of success
A year ago this month, UConn's Center for Entrepreneurship and Innovation (CCEI) opened for business in Connecticut and on Jan. 23, it officially moved into its new space in the Connecticut Center for Advanced Technology offices in East Hartford. Read more...