Colorful trinkets and objets d'art from around the world pack the shelves and line the walls in Robert Chudy's office. There's even an international collection of Coke cans – some full, some empty.
"Students bring things when they come back after the holidays," Chudy says.
"They like to add to the collection. It makes them feel at home when they see an object from their own country."
Chudy, who has been at UConn for 23 years, advises, counsels, and interprets immigration rules and regulations and labor department policies for some 1,700 international students and scholars at Storrs and the regional campuses.
He is currently interim director of the Department of International Services and Programs.
"My job is to make sure that the international student or scholar understands the immigration rules and regulations, and to make sure they feel welcomed to the United States," he says. "The International Center is a place where internationals should feel free to discuss any problems they're having."
He often gives workshops and presentations to faculty and staff about rules and regulations, which differ depending on an individual's immigration classification.
Chudy says his job is gratifying.
"I have probably the most rewarding job in the world," he says. "You come to our office, and we are here to help you. And that's the reward: to see that we've helped someone solve a problem – either legal or personal – and maybe, avoid a catastrophe."
Chudy was one of two people at UConn to receive the 2007 Lifetime Achievement Award in International Affairs from the Office of the Vice Provost for Multicultural & International Affairs.
He also received a lifetime achievement award from Region XI (New England) NAFSA, an association of international educators that promotes international education and provides professional development opportunities.
As a member of NAFSA's government regulatory advisory committee he works with other advisors in New England on the interpretation of immigration rules and regulations, often through presentations.
But Chudy's presentations are not what one would expect, given the topic – which might be seen as dry: He creates full-fledged skits, using characters from history and film, complete with costumes and music.
For example, in one skit, "The Story of Don Quixote: A Candle in the Wind," Don Quixote's quest for the "Impossible Dream" is to get a green card.
"It's a classic example of what happens when brilliant international visitors ignore details and 'cast their fate to the winds,'" says Chudy.
In another program, he uses Dante's Inferno to examine the "crime" that internationals either knowingly or unknowingly commit: misrepresentation on a visa application.
Darth Vader and Princess Leia from Star Wars have also appeared in his programs. These characters did not have the appropriate visas to enter the United States, he says.
"You can take something dry – like rules and regulations – make it fun, and have it stick with people," Chudy says.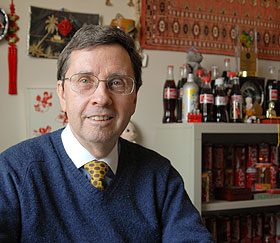 Robert Chudy, interim director of the Department of International Services and Programs.
Photo by Peter Morenus
"The skits reinforce concepts in a new way."
Chudy says the terrorist attacks of 9/11 altered the way colleges handle international students, faculty, and staff: "SEVIS [the Student Exchange Visitor Information System] really changed things."
SEVIS was one of the federal government's most ambitious efforts to boost surveillance of visitors from other countries. Schools must notify the Department of Homeland Security when a foreign student has enrolled, dropped out, faced disciplinary action, or changed a name, address, or field of study.
"Every move an international student makes, such as adding or dropping a course or changing their address, has to be reported to the government," Chudy says.
"Any time they go on PeopleSoft, we get the message and have to decipher whether immigration has to handle it, or we can talk to the person. For example, an international undergraduate must take 12 credits every semester. If they go below that, they violate their status and are subject to deportation."
At orientation, Chudy says, "We tell students that we don't work for the Department of Homeland Security, the State Department, or the CIA. We want to make their experience in America a good one, but we also have to make sure they understand the rules and regulations."
And that takes a lot of time, he says: "Every day, there are at least 50 to 100 alerts. One day, at the beginning of a semester, we got more than 1,000 alerts, because people were adding and dropping courses."
Chudy has a bachelor's degree in history and a minor in philosophy from the University of Alabama, and a master's in East Asian Studies from the University of Kansas.
He served in the Peace Corps from 1972 to 1977 in Busan, Korea, where he helped start a linkage/exchange visitor program between the University of Alabama and Busan National University.
"My experience in the Peace Corps really helps in my work," he says.
"When someone comes into my office with a problem, I can say, 'I know how you feel, I've been there.' I can help people solve their problems."
These problems run the gamut, he says. "It can be anything from a death in the family or a car accident, to a student wanting to transfer to a warmer place," he says.
"Maybe a student isn't getting along with his or her academic advisor, or is having dating issues. Anything you can think of is discussed in this office.
"I never know what to expect from day to day," he adds.
"If you like the unexpected, this is the job for you."