Be well organized, give students a comprehensive syllabus, and encourage them to get to know you.
Those are some of the key suggestions Keith Barker provided UConn faculty during a recent talk on "Engaging Students in Large Classes."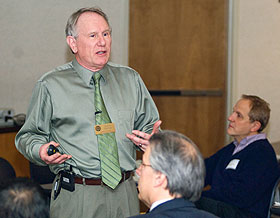 Keith Barker, director of the Institute for Teaching and Learning, gives a presentation on engaging large classes, during a winter teaching institute for faculty on Jan. 18.
Photo by Daniel Buttrey
Barker, associate vice provost and director of the Institute for Teaching and Learning, offered his advice Jan. 18, during a day-long program sponsored by the Institute and held in the Center for Undergraduate Education.
The event, the first University-wide winter teaching institute, drew about 70 faculty from Storrs, the regional campuses, and the Health Center.
Sessions were also offered on integrating technology in the classroom, online teaching, testing and grading, helping students handle test anxiety, and teaching every student.
A video clip of Barker from decades ago, complete with Beatles' music, drew chuckles from the audience.
"We have to start off really well, particularly in large classes," he said.
"It always amuses students when you show early pictures of yourself. It's one of the ways I start to get involved with the class, irrespective of size."
Small talk builds the relationship between professors and students, he said: "Greet students and make them feel it's an individual experience. Chat with people in the aisles. If they see you doing that, they'll be more inclined to talk to you."
Barker said organization is key when teaching a large class: "Don't plan to ad lib. You have to be prepared for alternatives. There is much more preparation and organization when dealing with a large class."
The course syllabus should be comprehensive and well defined, Barker said. "More should be there rather than less. I believe in writing a narrative syllabus."
Students need to be told what is expected in the class, he said. "Guide them on exam techniques. Explain test and exam formats and how to interpret multiple choice questions. We want to help them succeed."
Also, tell students what is important for them to know.
"Suggest that they take really good notes," he said. "Tell them to reflect about what went on during that hour of class after they leave, and to write down some notes."
He said students in large classes generally need more motivating than students in smaller ones.
"You have to personalize, have a variety of activities, and deal effectively with the increased diversity of students and where they are in terms of learning," he told the audience.
There will be more disruptions when teaching a large class, Barker noted.
"Students will arrive late and leave early," he said. "Some will sleep in class; others might be reading the newspaper or talking on a cell phone. Tell them to check the syllabus for rules of conduct."
Use humor, Barker said: "If the class is particularly long, add a bit of humor every 20 minutes. It gets students' attention, and helps them return to concentrating."
He advised the audience to "watch your mannerisms and speech patterns. Avoid 'ums' – just leave a gap if you can't collect your thoughts," he said. "Videotaping yourself might be useful. You get a lot of information."
Barker urged faculty to communicate with students, noting that e-mails are a good way to send reminders about important dates and events.
He also encouraged them to tell their students to get to know their instructor, by visiting him or her during office hours and sending e-mails with good questions.
Explain to students that you will not be able to get to know all of their names, but you will try, he said.
"Tell them what you want to be called, and how to contact you. Invite them to come to your office during office hours. Ask for names on all points of contact with students."
Barker said he makes a list of everything he needs before going to class. "If I'm using PowerPoint, the first frame gives me a list of all the things I need for the class," he said. "Have alternatives listed too, in case you finish early."