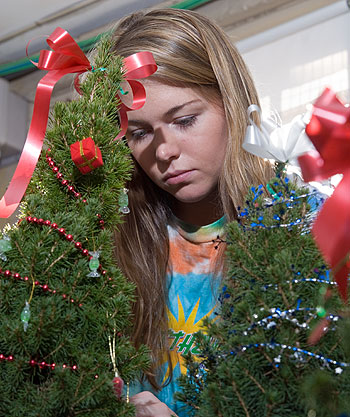 Debbie Ruszczyk, a junior majoring in horticulture, decorates trees for sale in the Floriculture building.
Photo by Frank Dahlmeyer
December 10, 2007 ¦ Volume 26, No. 15
Publication Notice: This is the last issue of the Advance for the fall semester. We resume weekly publication on Jan. 22. Happy holidays!
Transition plan a 'starting point' for Hogan
A presidential transition plan outlining 16 broad issues the University must address has been completed and presented to the Board of Trustees, President Michael J. Hogan, and senior University leaders. Read more...
Alum's gift establishes endowed professorship
Alan R. Bennett '69 has donated $750,000 to establish an endowed honors professorship in political science – the first for both the Department of Political Science and the Honors Program. Read more...
Winter commencement speaker, honorary degree recipient named
Charlotte Bunch, an activist, author, and organizer in the women's, civil rights and human rights movement for 40 years, will deliver the commencement address during UConn's fifth annual winter commencement exercises on Dec. 16. Read more...
Book on University history receives award
A history of the University of Connecticut by emeritus professor Bruce Stave has won the Homer D. Babbidge Jr. Award for 2006. Read more...