If life is about being in the right place at the right time, geosciences graduate student David Hoover was in the right place – the Center for Environmental Sciences and Engineering (CESE) – in time to take advantage of a program to fund his summer research.
Hoover, who is in the second year of a master's degree program through the Center for Integrative Geosciences in the College of Liberal Arts and Sciences, last summer received one of 25 Multidisciplinary Environmental Research Awards for graduate students.
Proposals are now being accepted for graduate summer research awards for 2008.
"This grant funded my research through the summer, which was great," says Hoover, who is studying the effects of climate change.
"There's a tendency towards specialization in the sciences, but this award's multidisciplinary approach allowed me to take ideas from different fields and put them together."
The CESE grant enabled him to travel to Kansas to do field work on the ecological effects of rainfall changes on tallgrass prairie.
"This project examines how predicted changes in the timing and intensity of precipitation may affect plants in the tallgrass prairie," Hoover says.
"Understanding this response to climate change is important because grasslands cover 40 percent of the world's land surface, feed the world's wild herbivores and livestock, and remove greenhouse gases from the atmosphere."
This summer, CESE expects to award 20 to 25 new multidisciplinary environmental research awards.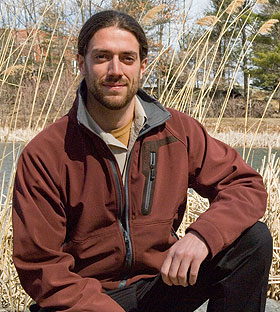 Graduate student David Hoover received a CESE research fellowship last year.
Photo by Teresa Phillips, '08
The awards of around $5,000 are intended to support research that is not currently funded.
To be eligible, a student must be in good standing in a graduate program at UConn at the time of application and in summer 2008.
Applicants must identify two graduate faculty mentors who will collaborate in the conduct of the research, and the mentors must be from two different disciplines – preferably from two different departments.
Last summer, CESE gave awards to 25 students from 17 departments in CLAS, the College of Agriculture and Natural Resources, and the School of Engineering.
Their research involved such diverse fields as anthropology, ecology and evolutionary biology, marine science, materials science, and chemical engineering.
The deadline for submitting proposals is Feb. 1, 2008. More information and proposal instructions are available at CESE's web site.