Alan R. Bennett '69 has donated $750,000 to establish an endowed honors professorship in political science – the first for both the Department of Political Science and the Honors Program.
The professorship is intended to enhance high-level course offerings and faculty research.
"Alan Bennett's gift is generous and well-targeted," says Ross MacKinnon, dean of the College of Liberal Arts and Sciences.
"The professorship will enrich the already fine scholarly climate that exists for undergraduate students in political science, and reinforce the close association between the College of Liberal Arts and Sciences and the Honors Program."
Bennett, a former honors scholar, says he wanted to support the programs that helped prepare him for a successful career. Now a partner at Ropes & Gray in Washington, D.C., he previously served in the general counsel office of the Food and Drug Administration and was counsel to the Senate Governmental Affairs Committee.
He is a member of the UConn Foundation Board of Directors.
"I remember a real esprit de corps and individualized attention within the University, and wanted to give something back in return for that," says Bennett.
"Maybe this professorship can serve as something of a model for future contributions, and together, they can help make both the Honors Program and the political science department nationally recognized centers of excellence."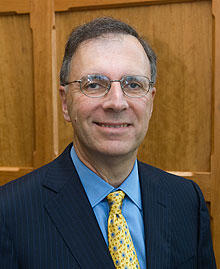 Alan R. Bennett, '69
Photo by Daniel Buttrey
The professorship will be used for an outstanding scholar, researcher, and educator who will contribute to the department's profile and mentor students.
"We would look for an accomplished scholar with a record of distinguished research and publication, but who is also committed to teaching our best students," says Howard Reiter, head of political science.
The new faculty position will enable the department and the Honors Program to collaborate on expanding advanced courses, enrichment programs, and one-on-one research opportunities.
"Honors students are choosing UConn over some of the most prestigious institutions in the country," says Lynne Goodstein, director of the Honors Program.
"Having the opportunity to study and work closely with a distinguished faculty member reinforces their confidence that they have made the right choice."