Like Masha, the central character in her debut novel, The Last Chicken in America: A Novel in Stories, Ellen Litman came to the United States from Moscow and faced the challenges of assimilation into a new culture.
And like her character, Litman also initially pursued studies in computer science and mathematics before following her dream.
"I think the first years of adjusting, assimilating, and coming to terms with this new life were very close to what I actually experienced," says Litman, assistant professor of English and associate director of UConn's Creative Writing Program.
"The events themselves were different – Masha is not a writer, although she ends up studying literature – but the major theme is true. My teachers and parents explained there was not a place to study writing in Russia and no future in it."
After arriving with her family in Pittsburgh, where her aunt lived, Litman was finally able to begin writing, after working as a computer programmer and earning a master's degree in English from Syracuse University.
She eventually began to write about Squirrel Hill, the Russian immigrant community within Pittsburgh.
"I always knew I was writing these stories as part of a collection," she says.
"I didn't know how closely linked they would be, or that it would become a novel of stories. I did know they would have a theme (Russian immigrants), they would be set in the same neighborhood and, to some degree, there would be recurring characters."
The Last Chicken in America (published by W.W. Norton Co.) follows the life of a young woman who struggles to synthesize multiple generations and cultures within a community of families trying to do the same.
The book has been well-received, with Publisher's Weekly describing it as "less like a novel than a coherent set of mostly first-person character studies by a very promising writer," and a favorable review in the Oct. 21 New York Times Sunday Book Review.
Litman's talent has also been recognized within the writing community. She received the 2006 Rona Jaffe Foundation Writers' Award, which is presented to "women writers who demonstrate excellence and promise in the early stages of their careers" – a stellar achievement for someone who arrived in the United States 15 years ago without fluency in English.
"It took years to come to this idea that I could even take a class in writing, because I didn't think I'd be able to write in a second language," Litman says.
"I studied English in Russia, but I wasn't fluent. I started getting fluent after I moved away from my family and had no interactions with anybody Russian."
She says she discovered that overcoming the barrier of writing in a second language was a matter of thinking in terms of stories.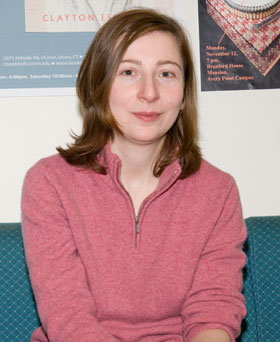 Ellen Litman, assistant professor of English, who recently published her first novel, is associate director of the Creative Writing Program.
Photo by Frank Dahlmeyer
"No matter what language, you'll still be thinking of stories and characters. It's more or less universal," she says.
"I've been reading all my life. I've read so much Russian literature, and I'm reading a lot of contemporary American literature. My writing happens to be influenced by growing up in Russia, just as someone growing up here in the South might draw on the traditions of Southern writing and culture."
Litman is part of a group of young Russian writers who have arrived in the U.S. in recent years and are emerging with their own style and following.
She has been compared to Gary Shteyngart, the Leningrad-born writer who grew up in New York City and teaches at Columbia University, who last year published his second novel, Absurdistan.
"There's been quite a few Russian immigrant writers whose books either just came out or are coming out in the next year, which is quite exciting and really interesting to watch," says Litman.
"I went to New York to do a reading and I was talking to another Russian writer, Anya Ulinich, who just had her novel, Petropolis, published. We were saying how great it would be if there were this huge new movement of Russian-American writers."
Even as she continues to travel around the United States to promote her book this fall, Litman is busy teaching a graduate fiction workshop and organizing events for the Creative Writing Program.
In the spring, she will teach a course on producing literary magazines – in this case UConn's Long River Review – as well as continuing work on her next novel, set in Russia during the mid-1980s, the years of the break-up of the Soviet Union known as perestroika.
Litman says after that novel is completed, she will change topics.
"I think my next project will not have anything to do with Russia. I do want to look at other things," she says.
"It will be an interesting challenge."