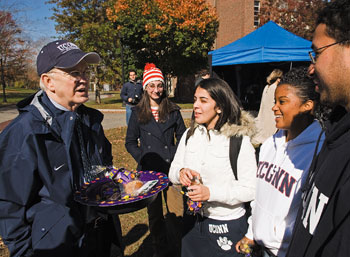 President Michael J. Hogan, left, speaks with Jeniffer Perez, Jocelyn Cerda, and Johann Delgado, all freshmen, during a Trick or Treat session outside Gulley Hall.
Photo by Peter Morenus
November 5 , 2007 ¦ Volume 26, No. 11
UConn Football achieves first national ranking
The UConn Huskies are ranked 16th in the nation in the Associated Press NCAA football poll released Oct. 28. Read more...
Geologist joins international study of earthquakes
A UConn geologist has joined a scientific expedition off the southwest coast of Japan to learn more about what causes earthquakes, knowledge that someday could be used in disaster management. Read more...
Puppetry institute calls for volunteers, meeting November 17
All current and potential "Friends of the Ballard Institute" are invited to a meeting at the Depot Campus on Saturday, Nov. 17 at 2 p.m., to talk about new activities at the Ballard Institute and how volunteers can help the Institute operate its museum, maintain its collection, and take part in special events promoting the knowledge of puppetry. Read more...
Master's Entry into Nursing program to expand to Waterbury, Stamford
UConn's full-time accelerated Master's Entry into Nursing program has been approved for expansion to the Waterbury and Stamford campuses. Read more...