Eliana Rojas believes students learn mathematics better when taught in their native language, and she has federal backing to put her theory into practice.
The U.S. Department of Education recently awarded Rojas a $1.5 million grant "to prepare teachers of English language learners to accelerate their students' academic achievement."
The grant focuses on the preparation and professional development of bilingual and Teachers of English to Speakers of Other Languages (TESOL) math teachers, in order to provide appropriate and effective instruction to adolescents who are learning the English language.
"We will be focusing on math literacy in the Hartford and Willimantic schools, in grades six to 10, the school years when, besides coping with physiological changes, Latino adolescents are coping with issues of immigration, assimilating to a new culture, and learning a new language," says Rojas, a former Hartford math teacher now an assistant professor-in-residence in the Department of Curriculum and Instruction at the Neag School of Education.
These schools, where Spanish-speaking children are concentrated, have up to now been offering bilingual language courses. Yet they have been plagued by a generally inadequate mathematics placement system and a dysfunctional curriculum, says Rojas.
The best students are merged into mainstream classrooms, she says, and all other English language learners are transferred out of bilingual programs after 30 months. Yet it takes more than eight years to acquire more or less comfortable proficiency in a new language, she says.
"We know a large percentage of Latino adolescents are failing mathematics, and a large percentage are dropping out of high school in 10th grade," Rojas says.
"So we need to find ways for the students to continue to learn mathematics in Spanish.
"In order to do that," she adds, "we have to invest in training Spanish bilingual mathematics teachers and teachers committed to working with such students, and instill in them effective research-based methods of teaching and learning."
School counselors, administrators, and parents also will be part of the project. Rojas says that when teachers are assured of support and interest, they can integrate change into instruction.
A research group working on these topics will be led by Xae Alicia Reyes, an associate professor of curriculum and instruction, through the Institute of Puerto Rican and Latino Studies. Faculty involved will develop workshops and seminars in cross-cultural communication in schools, to help build culturally responsive learning environments.
Rojas, who grew up in Chile, says her ideas about teaching math in diverse environments stem from her own frustrations as a newly-arrived graduate student at an American university in the late 1970s, and from seven years' teaching in Hartford middle school and high school bilingual programs, where Spanish-speaking students grappled with similar issues.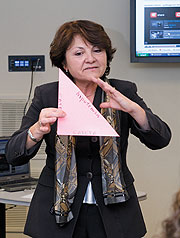 Eliana Rojas, assistant professor-in-residence of curriculum and instruction, teaches a class about mathematics instruction in Spanish.
Photo by Frank Dahlmeyer
Many of the problems lie in cultural differences.
"Boys and girls were coming to my classroom and doing wonderfully in mathematics," she recalls, "but the best students were removed by the third month to do English only. Then I would see them dropping out, or not taking math. I felt we were unfair to them and their families."
English language learners often "have acquired math in schools where they're coming from, but don't understand math here," Rojas says.
"Native Spanish speakers see mathematics as a continuum," she says.
"Here we compartmentalize it into algebra, geometry, and pre- calculus." Latinos also take a more cooperative approach to learning math, she adds, whereas in America the process is individualized.
To address these deficiencies, Rojas created an intermediate algebra and pre-calculus course in Spanish, which she piloted at UConn in fall 2005.
Part of the new grant will be used to strengthen and implement that course.
Teachers participating in the project will develop courses concentrating on problem-solving issues involving environmental change, social responsibility, and health. Rojas says English language learners learn better when lessons are embedded in thematic units.
"They will be building bridges of communication through a mathematical curriculum with these three elements," says Rojas, who also sees continued learning in a native language as a human rights issue.
"I feel very strongly about this," she says.
"If you lose your language, you lose the spirit of your culture. And mathematics is a good avenue for students to develop both their first and their new language, because the ability to think logically and reason deductively are embedded in every domain of learning."
Rojas hopes the grant will also further her efforts to attract UConn students from a variety of different majors to take a mathematics in Spanish course.
The grant will also fund seminars and conferences open to all students, faculty, and staff at the University.