Alain Frogley's interest in music began with the rock pioneers David Bowie and Peter Gabriel.
He took up the flute after hearing it played by the Genesis-era Gabriel.
Now a a professor of music in the School of Fine Arts, he reaches out to students in his classes by incorporating contemporary popular music into discussions of music history.
"I thought about becoming a professional flautist," he says, "but I had become so interested in music history that I decided to study music in a more academic way."
He completed his undergraduate work at Oxford University, earned a master's degree at the University of California at Berkeley, and returned to Oxford for his doctoral degree.
He now teaches music history and music appreciation classes at UConn.
Frogley also is an authority on the 20th century British composer Ralph Vaughan Williams, a figure who in England casts a shadow of influence much like that of Aaron Copland in the United States, he has worked extensively with manuscripts by both Vaughan Williams and Beethoven.
"Williams was a very complex individual, shaped by the historical forces around him and then in turn shaping them himself," Frogley says.
"Whenever one works on individual biography, one sees the danger of historical generalization. It's important to be reminded in the end that history is shaped by individuals, as well as by these large forces.
"That's why working with sketches at the musical level is so fascinating," he adds, "because you see composers in dialogue with themselves and with history – the influences they inherited, how to mold them, reject them, or assimilate them.
"It's a very complex process, that complicates and enriches our understanding of the completed work."
Frogley says there are many surprises along the way.
"One of the things I was amazed to discover is that Frank Sinatra was a big Vaughan Williams fan. He encouraged his string arranger, Nelson Riddle, to pay good heed to Williams' string writing."
More recently Frogley has explored interconnections between British and American music, particularly the issue of racial discourses in American 20th century music and the Anglo-Saxonist movements in folk and art music.
"There were quite a few critics in the 1920s and '30s of the direction American music was taking," he says.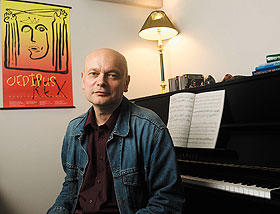 Alain Frogley, professor of music, at his office in the Fine Arts Building.
Photo by Peter Morenus
"They were concerned about the influx of Jewish immigrants and the influence of black music, that were giving America a musical identity that went against what they thought was the historic context of Anglo-Saxon music. But history, on the whole, sort of passed them by. Today's fears about hip-hop are in many respects the same as those surrounding early jazz."
Frogley's most recent research, supported last year by a fellowship from the American Council of Learned Societies, involves the relationship between music, empire, and post-colonialism, especially in the emerging modern metropolis circa 1910.
He has been invited to teach on the subject as a visiting professor at Yale next year.
Frogley says the challenge in teaching music is that unlike many other classroom subjects, students enter a class with some musical experience and an opinion about what they may like.
He introduces contemporary popular music into his discussions of music history or music appreciation classes.
"I always have taken very seriously the idea that academics should try to bridge the gap between the university and the wider world with music," he says.
"Universities at times have been cut off from that."
He says he takes music appreciation classes very seriously.
"This is increasingly the only exposure to classical music that many students will ever have," he says.
"That's something I take as a real opportunity for them to think critically about the context of all music."
Frogley has a Provost's General Education Course Development Grant with Eric Rice, assistant professor of music, to retool music appreciation classes to include more contemporary readings around music that address issues such as race and gender.
They are also developing software with the Institute for Teaching and Learning to provide students with the opportunity to compose music.