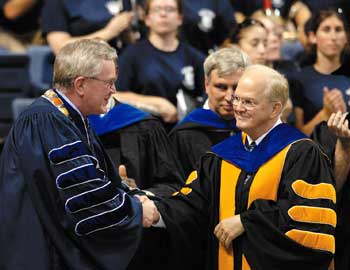 University President Philip E. Austin, left, welcomes incoming President Michael J. Hogan during Convocation at Gampel Pavilion August 24.
Photo by Peter Morenus
September 4 , 2007 ¦ Volume 26, No. 2
'Make your time matter,' Hogan tells new students
Convocation this year launched the UConn careers of some 3,000 undergraduates. It also marked the start of incoming President Michael Hogan's duties at the University. Read more...
UConn hiring additional faculty
UConn has hired 40 additional faculty members for the 2007-08 academic year, thanks to internal spending reallocations and additional funding from the Legislature. Read more...
Two new buildings planned to replace Arjona, Monteith
UConn officials have decided to replace the aging Arjona and Monteith buildings with two structures fronting Fairfield Way, rather than one massive building at the former site of the UConn Co-op. Read more...
Mansfield's fall festival set for September 15-16
A weekend of events is scheduled for Sept. 15-16 to celebrate the Town of Mansfield and the future development of Storrs Center. Read more...