Several years have passed since Betty Hanson started her latest book. But it's not because she has writer's block.
Hanson, a political science professor at UConn, has undertaken the analysis of the growing world of information and communication technologies to explain how they affect world politics.
Her book, The Information Revolution and World Politics, looks at how technology has affected three areas of global politics: diplomacy, war, and peace; the global economy and the distribution of the world's wealth; and national sovereignty, identity, and culture.
The book looks at individual controversies regarding the impact of the information revolution on world politics.
For example, Hanson examines the role of the Internet in opening up China's political system. Another example is how satellites affect what citizens of individual countries see about the world on television.
She examines how these have reduced the time and cost of communicating over great distances, and the variety of channels of communication and sources of information that are available.
Few scholars have attempted to look at the overall picture of global communications and how it influences world politics, Hanson says, but a lot of research about individual technologies has been done.
The first two chapters of her book trace the information revolution back to days long before the Internet existed.
Hanson looks at the use of communication devices such as the printing press and the telegraph, and explains how these are stages in a long line of communication technologies with a significant impact on global politics.
The rest of the book focuses on newer, globalizing technologies including the Internet, satellite, and cable.
Hanson uses a historical perspective to demonstrate one of her main arguments: that the future of technology was, and still is, open-ended and indeterminate.
She says the direction and impact of the new technologies, like earlier ones, depend on government policies, market forces, and social uses.
She concludes that the impact of the information revolution will be the net result of choices made by individuals, groups, enterprises, and states operating at local, national, and global levels.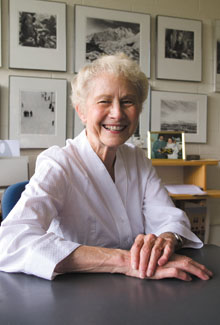 Political science professor Betty Hanson, author of a new book, in her office.
Photo by Peter Morenus
One of her goals in writing the book is to bring the topic to the attention of scholars in international relations.
"Betty has written about a wide variety of topics in international relations throughout her career," says Howard Reiter, head of the political science department.
"What I find inspiring is that she's been willing to stick her neck out to delve into this emerging field of study before anyone else.
"Betty's research will hopefully fuel more research on this topic, not only in international relations, but across the social sciences," he adds.
Hanson says the book is relevant in the fields of both communication sciences and political science. It's written to be understood by the average person.
She has written and rewritten parts of the book over a period of several years, trying to keep up with new and changing technologies, policies, and economic and social conditions.
"It's a big, dynamic subject that's always changing," she says.
"I wanted to get the big picture, but it was difficult to figure out how to organize the book," she adds. "Such a broad topic is difficult to conceptualize. I tried many methods before I hit on the right one."
Hanson has had to add a section on cellular phones, for example, while working on her book, because they have become so widespread in the past few years.
"So much is changing so rapidly in the information world," she says. "There are always new and relevant things I want to add."
Kala Kachmar, a junior with a double major in journalism and political science, is a student in the Honors Program.