In her 10-plus years at the UConn Health Center, Pamela Miles has earned a reputation as someone who goes above and beyond. That must be why people keep nominating the University Dentists faculty practice manager for the PAWS award.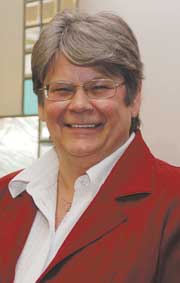 Susan Lapalme of the York Correctional Institute.
Photo supplied
PAWS are recognition awards for Health Center employees. PAWS is an acronym for "Part of a team, Awesome attitude, Wonderful work ethic, and Superior service." The title Husky Hero goes to four-time PAWS winners.
Susan Lapalme, a correctional hospital nursing supervisor at York Correctional Institution in Niantic, also has been racking up PAWS awards, and her latest made her a Husky Hero too.
"Sue has a can-do attitude, and is committed to superior performance," says Connie Weiskopf, director of nursing, quality improvement, and patient care services in correctional managed care.
Weiskopf has nominated Lapalme several times for her role in achieving and maintaining York's accreditations. York became the first women's prison in the country to receive accreditation from the National Commission on Correctional Health Care in 2002. It won reaccreditation in 2005.
And in 2004, York became the nation's first correctional facility to earn accreditation for its opioid treatment program; it was reaccredited this year.
"While people are coming and going, administrators are coming and going, Sue has been responsible for ensuring that standards continue to be met," says Weiskopf. "She is the glue that holds things together."
Eileen Borowski, health services administrator at York, says Lapalme has demonstrated depth of knowledge of the subject matter as well as operational detail during the various accreditations over the past five years.
The accreditation process for the opioid treatment program was new territory, as the program – "essentially a methadone detox program," Lapalme says – had no precedent at any U.S. correctional facility. The staff had to start from scratch.
"We have policies, procedures, and standards we have to comply with," says Lapalme.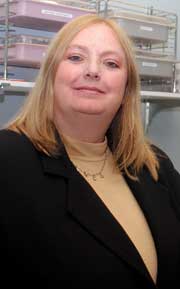 Pam Miles of University Dentists.
Photos supplied
Miles has been nominated over the years for helping the Department of Patient Relations handle patient complaints and requests, implementing her department's new dental management information system, demonstrating leadership as the faculty practice's business manager and, most recently, her work during her office's relocation this spring.
According to the nomination from Dr. Sarita Arteaga in the Department of Reconstructive Sciences, Miles "came in on Good Friday – a day on which the clinic was closed, but the day after the move – to unpack boxes, scrub floors, and be certain the clinic was ready for operation the next Monday, when patients were already scheduled."
Dr. Monty MacNeil, dean of the UConn School of Dental Medicine, says Miles "leads by example, and that's what she did on this move. She really rolled up her sleeves."
University Dentists staff members say that was just one, recent example.
"Whenever you need help she's always there," says dental assistant Agnes White. "She's there for the patients, she's there for the staff, she's there for the faculty."
Patient service representative Christine Nadolski describes Miles as "a very good leader and motivator.
She's approachable and easy to work with, and she brings out the best in people."
Both Lapalme and Miles are quick to point out the support they get from those around them.
"University Dentists is an excellent department with dedicated providers as well as staff," says Miles.
"A day doesn't pass by without patients stopping me to share kind words about their experiences at UD."
Says Lapalme, "These are … not my accomplishments, they're for York. As a group, we're very proud of what we've done, but I didn't do it. We did it."