Former men's basketball player Hilton Armstrong was back on campus this summer – not on the court, but in the classroom.
Armstrong, who left the University in 2006 to enter the NBA, took two courses and hopes to take one more next summer to earn the remaining credits to qualify for a degree in political science.
He is one of a growing group of former student-athletes who return to the University to complete their degree with the support of the Division of Athletics.
Earlier this year, UConn was recognized for the second consecutive year by the National Consortium for Academics and Sports for the success of its degree completion program.
"The primary mission of UConn's Division of Athletics is for our student-athletes to earn their undergraduate degree," says Jeff Hathaway, director of athletics.
Bruce Cohen, director of the University's Counseling Program for Intercollegiate Athletes, says the program is expanding each year, as former student-athletes learn about the opportunity to complete their degree.
"When we started the program, we called those who didn't complete their degree a long time ago and encouraged them to come back," he says.
"Now it's building a life of its own. The students are coming to us wanting to finish."
Among those who completed their UConn degrees in 2006 are baseball's Jeff Hourigan; Kevin Freeman and Rashamel Jones of men's basketball; Roy Hopkins and Tavaar Closs of football; Shannon Connolly of women's ice hockey; Cassie Novak of women's swimming and diving; and April Garner of women's track and field.
For undergraduates participating in NCAA sports, the schedule can be grueling.
They must maintain full-time student status by taking 12 credits a semester, and although practice time is limited by the NCAA to 20 hours a week, that doesn't include travel time and games.
Armstrong says being both a student and an athlete is demanding.
"You practice in the morning, go back and get ready for class, and sometimes you go back and practice again later," he says.
"There's barely time to relax. It takes a toll, both physically and mentally."
He says he took a few days off from his studies in 2004 after the team won the national championship, but he had to make up for it the next week.
"I had to put my face in my books and study 24/7 to catch up," he says.
Cohen says the student-athletes who need the most guidance are those on teams that either compete both semesters – basketball and swimming, for example – or travel extensively, such as baseball and softball.
He says UConn's student-athlete graduation rates are comparable to those of the general student population – about 70 percent.
"The primary reason student-athletes leave before graduating is for professional sports opportunities," says Cohen.
"Others transfer because perhaps they didn't get as much playing time as they wanted, or they leave because of personal issues, such as taking care of a family member."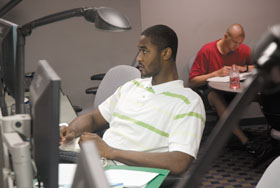 Former men's basketball player Hilton Armstrong uses a computer in the study hall at Gampel Pavilion. Armstrong, who is now in the NBA, hopes to finish his degree next year. In the background is former UConn player Ruslan Inyatkin, who completed his degree this summer and now works as an office manager for a Connecticut company.
Photo by Sean Flynn
Although NCAA players' eligibility is limited to four years, their scholarships are available for five years.
Some UConn student-athletes, such as former basketball player Shamon Tooles, take advantage of the extra year, says Ted Taigen, associate professor of ecology and evolutionary biology and CPIA's academic advisor to the men's basketball team.
Cohen says his staff encourage student-athletes not to leave the University early, "but when there's a good reason for doing so, we make it very clear the doors are open for them to return and make sure they're in a position where they can step back into the degree program."
For those who left many years ago, the adjustment can be considerable. Degree requirements and curriculum have changed, and former players may feel disconnected after being away.
The task may appear daunting, says Taigen, "but I am a relentless cheerleader for them to come back and finish the job. I bug them, tell them they can do it."
Although those who pursue a professional career in sports may be financially secure, there are other reasons for athletes to complete their degree.
"Many student-athletes are first-generation college students," says Cohen.
"It may be very important to the family or for their personal self-esteem to have a college degree and not be marked as a stereotypical student-athlete who goes to college just to play sports."
Says Taigen, "One of the things I tell the guys all the time is that when they finish their degree, it makes a statement about them, not just for themselves, for their families. It's a statement to their parents, and a statement to their children. It changes the landscape for their children to include education."
Armstrong says his mother urged him to complete his degree.
"I didn't argue," he says. "I'll feel more comfortable for myself. Not too many people leave and then finish their degree."
He says when he retires from the NBA, he hopes to work with kids. "I'd like to start some kind of program to help inner city youth," he says.
He believes having a degree will earn him respect.
Taigen says a number of basketball players who returned and graduated are now in jobs that require a degree. Rashamel Jones '06, for example, is a caseworker for the Department of Children and Families.
Brian Fair, a student-athlete from 1991 to 1995, went on to earn a master's degree and is now an educational administrator in Phoenix, Ariz., and is studying for a doctoral degree.
Cohen notes that many professional athletes' careers are over by the time they are 30. They need other interests and skills for the rest of their life, he says.
"You need an education to be a well rounded human being."