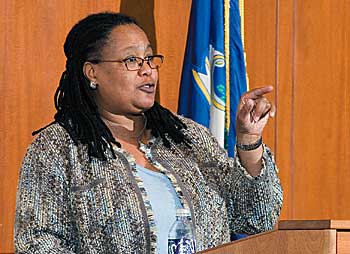 Evelynn Hammonds, senior vice provost for faculty development and diversity at Harvard University, gives a presentation "Race and Science: New Challenges to an Old Problem" in Konover Auditorium on April 4.
Photo by Frank Dahlmeyer
April 16 , 2007 ¦ Volume 25, No. 28
Appropriations Committee increases support for UConn
The Appropriations Committee of the General Assembly on Thursday approved a two-year budget for fiscal years '08 and '09 that is mostly positive, although significant challenges remain. Read more...
Scholars still disagree on concept of race, speaker says
Evelynn Hammonds, a professor of the history of science and of African and African-American studies, brought an April 4 UConn audience on a historical tour of sorts, examining more than 200 years of theories and beliefs on race that still have historians and scientists arguing. Read more...
Policy change promotes fund raising for buildings
A modification to policy approved by the Board of Trustees last week will permit the University to initiate project definition and pre-planning activities for building projects funded with private support, provided adequate private funds are available. Read more...
Audiology professor receives top award in field
Frank Musiek, professor of audiology and director of auditory research in the Department of Communications Sciences, is being recognized with the James Jerger Career Award for Research in Audiology, the field's highest award. Read more...