Children who have a parent or grandparent with ALS now have a new resource: a backpack filled with special items to help the youngsters understand and cope with changes associated with ALS.
The disease, also known as Lou Gehrig's disease, is a rapidly progressive condition that causes muscles to weaken, waste away, and twitch.
"ALS patients will lose their strength and ability to move, and this can be very confusing and especially emotional for youngsters," explains Deborah Feigenbaum, a clinical social worker in the neuromuscular clinics at the UConn Health Center.
"With other diseases, such as cancer, there are treatments and there is hope. ALS has no treatment or cure."
Designed by Feigenbaum, the special backpack contains a worry box for "putting away" written worries; a journal to record thoughts and feelings; and a copy of The Fall of Freddie the Leaf, an allegory illustrating the delicate balance between life and death by author Leo Buscaglia.
Included in the backpack is an ALS activity book written by Feigenbaum to help children identify and express their feelings, and to understand and accept what's happening to a loved one.
The activity book provides practical ways for kids to connect with ALS patients, and other activities and games related to the disease.
Kids will also find a stuffed bear and writing materials in the pack.
"Everything in the backpack can be useful to children independent of others, and that's important for children who might not have an adult readily available," says Feigenbaum.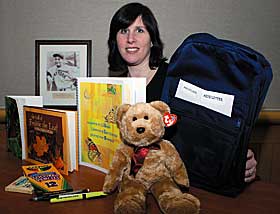 Deborah Feigenbaum, a clinical social worker at the Health Center, displays the items in the special backpack she created for youngsters who have a family member with ALS.
Photo by Janine Gelineau
"Deb always looks for creative ways to meet the needs of her patients and their families," says Patricia Verde, director of social work at the Health Center.
"She has expanded the scope of social work services for neurology patients here and elsewhere."
Shelley Dietz, head of the department of social work, adds, "Deb is resourceful and innovative. Her practice is focused holistically on the patient-family unit."
The backpack program was recently recognized by the ALS Association's Outstanding Innovation in Patient Service Awards at the organization's national conference in Newport Beach, Calif.
Feigenbaum says she was surprised by the award. "As a social worker, our work isn't celebrated that often, so this was exciting."
Competition for the award was open to ALS chapters nationwide and to ALS groups in the process of becoming chapters.
The backpacks are available to Connecticut patients and caregivers at no cost through the Connecticut ALS chapter, with support from the Countess Moira Foundation.