A student in Richard Luddy's physics class raises her hand to ask a question. A classmate, flipping through papers at his desk, comes up with the answer.
Another student discusses a homework assignment.
It sounds like ordinary classroom conversation, but there's a twist: The students are in classrooms at the Torrington, Hartford, and Avery Point campuses, and their professor is in Waterbury.
These students are among a growing number enrolled in interactive television courses (iTV), which enable students and instructors to interact with each other from different sites in real time.
The teacher's lecture is transmitted to other campuses by cameras and microphones located in the classroom. Students at the remote sites can see and hear the instructor on a projection screen or a monitor.
Likewise, each remote site has the same technology, enabling the instructor to see and hear those students.
The distance learning rooms have a computer, camera, DVD/CD player, VCR, cable TV tuner, and laptop connections.
Images displayed on any of the equipment can be transmitted to the remote site, so students at all locations see the same thing simultaneously.
"We want to create an environment for learning which is as close to real face-to-face interaction as possible," says Keith Barker, associate vice provost and director of the Institute for Teaching and Learning.
The number of iTV courses has grown from six last fall to 19 this semester.
Barker says iTV allows students at the regional campuses to take courses that aren't offered at those sites, and offers flexibility to students who have hectic working schedules.
"Non-traditional students can take advantage of this system because they may not be able to make it to a 9 a.m. or 10 a.m. class on Monday, Wednesday, and Friday," he says, "but if it's offered Wednesday night from 6 to 9 p.m. via distance learning, and they don't have to drive, that can work pretty well."
Richard Luddy, an adjunct professor of physics based in Storrs, is currently teaching Physics for the Health Sciences at all five regional campuses.
"The course, primarily offered to pharmacy students, has a large number of students – about 160 – being taught on the Storrs campus as one section," he says.
"Rather than simply sending the video feed to the regional campuses from the large lecture hall, I am able to have individual interactions with each of my 23 students spread over the state.
"With the current setup," he adds, "my class and I are nearly as close as being together in a small class."
Laura Donorfio, an assistant professor of human development and family studies based at the Waterbury campus, says, "I absolutely love teaching this way because it's cutting edge. I was able to create the teaching platform I felt would work best for my course content. This blended format allows me to use every type of technology available – PowerPoints, handouts, and Internet links, as well as speakers from other sites.
"By the third or fourth class, the three sites feel like one site and one large class."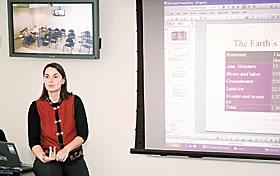 Penny Vlahos, assistant research professor of marine sciences, gives a lecture from the Storrs campus using interactive television. iTV is a growing part of UConn's distance learning program.
Photo supplied by the Institute for Teaching and Learning
An upgrade to the system called duo-video has made it easier for both students and instructors, Barker says.
Duo-video allows multiple images to be transmitted simultaneously to remote sites: "Instructors, for example, no longer have to switch between the camera and PowerPoint, because students at remote sites can now see them both. Pedagogically, it makes a lot of sense for students to see both the professor and the image."
Also, the image stays on the screen while the professor is speaking, so it's easy for students to take notes.
Nina Inzero, a senior majoring in human development and family studies, says iTV made it convenient for her to take Donorfio's course in Public Policy and the Family.
"I didn't have to worry about commuting back to Waterbury," she said. "I just stayed in Torrington after another class I had there."
Gina White, a sophomore at the Avery Point campus took Luddy's iTV course.
"Dr. Luddy ensures that we all are comfortable with the material and helps make the classes a bit more personal by actually traveling to the different campuses," she says, noting that he calls on students from all the campuses.
"He's even made sure that he knows everyone by name."
Faculty are trained for about six months before they start to teach iTV courses. "Generally, we do a course design with the faculty member, says Dan Mercier, director of instructional design at the Institute for Teaching and Learning.
"We want to make sure it's sound in terms of objectives, activities, and assessment. We also support faculty through the course, looking at how well has the course transferred to this interactive television mode, what activities might have to be changed, and what other instruction the faculty member might need in order to best teach in this medium."
Students are asked for feedback several times during the semester.
Mercier says his team works with faculty on classroom management.
"It's going to be different than any classroom they've managed before, because they're potentially managing up to six classrooms," he notes.
If there is a problem, Steve Fletcher, iTV coordinator of instructional design at the Institute for Teaching and Learning, or others who monitor the classrooms, can help.
"We can troubleshoot from campus or from home," he says.
"Everything in the classroom is touch-panel driven. We can control that panel remotely."