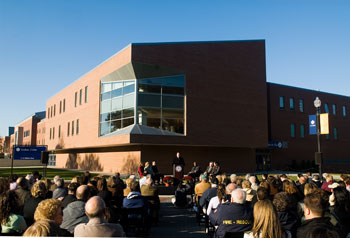 A dedication ceremony for the renovated Student Union was held October 21 during Homecoming. Speakers included President Philip E. Austin and Vice President for Student Affairs John Saddlemire.
Photo by Peter Morenus
October 30, 2006 ¦ Volume 25, No. 10

Director named for Health Center signature program
Dr. Jay R. Lieberman, a nationally prominent orthopaedic surgeon with expertise in joint replacement surgery, is the new director of the Musculoskeletal Institute and chairman of the Department of Orthopaedic Surgery at the Health Center. Read more...
Human rights violations stymie international bodies, speaker says
International law has traditionally existed to protect nation states from offenses by other nation states. But today the question of how - or whether - to address human rights in the framework of international law is being hotly debated, an expert said Wednesday night. Read more...
Wal-Mart critics, supporters speak at law school symposium
Wal-Mart, the world's largest retailer, was both praised and criticized at a symposium held Oct. 20 and 21 at the Law School. And one well-known advocate for the company surprised attendees by speaking out against recent wage caps at the retail giant. Read more...
Fund established in memory of student
Kyunga (Katie) Bu, a senior from Orange, died Oct. 22 at Hartford Hospital. She was 20. Bu was pursuing a dual degree in environmental science and natural resources management. The Katie Bu Memorial Fund has been established in her memory. Read more...
More headlines...