Dr. Jay R. Lieberman, a nationally prominent orthopaedic surgeon with expertise in joint replacement surgery, is the new director of the Musculoskeletal Institute and chairman of the Department of Orthopaedic Surgery at the Health Center.
Lieberman joins the Health Center from the UCLA Medical Center, where he was a professor of orthopaedic surgery at the David Geffen School of Medicine and director of both the total joint replacement service and the resident education program for the Department of Orthopaedic Surgery.
"Total hip or knee replacement surgeries were once thought of only for patients aged 70 or older," says Lieberman.
"Now we are using the procedure on much younger patients and helping them to continue active lifestyles."
Lieberman says joint replacements are being required "to do more and to last for longer periods of time.
At the same time, we are working to develop less invasive surgical techniques, novel pain management protocols, and more aggressive physical therapy to further improve outcomes."
In addition to his interest in total joint replacement, Lieberman has extensive experience in the treatment of osteonecrosis of the hip and knee, a leading cause of pain and loss of mobility.
His research interests include outcomes after total joint replacement surgery; deep vein thrombosis prophylaxis; and gene therapy to promote bone repair. Lieberman was a pioneer in the field of musculoskeletal gene therapy.
The focus of his research is to enhance the body's ability to heal difficult bone-loss problems associated with fractures, total joint replacement, and bone tumors.
Lieberman has written more than 100 articles and book chapters. In addition, he is a reviewer for publications including the Journal of Bone and Joint Surgery and the New England Journal of Medicine, and serves on the editorial board of several prominent orthopaedic journals, including the Journal of the American Academy of Orthopaedic Surgery and the Journal of Arthroplasty. He is actively involved with many national orthopaedic organizations and has been invited to present hundreds of lectures nationally and internationally about joint replacement surgery and other orthopaedic topics.
"We are most pleased to have someone of Jay Lieberman's skills leading both our Department of Orthopaedic Surgery and our vibrant program in musculoskeletal health," says Dr. Peter J. Deckers, executive vice president for health affairs at the Health Center and dean of the UConn School of Medicine.
"Musculoskeletal disorders, from osteoporosis and arthritis to fractures and other injuries, affect millions of Americans every year," Deckers adds.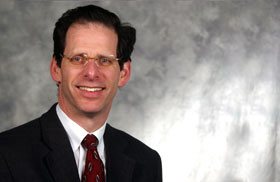 Dr. Jay Lieberman
Photo by Janine Gelineau
"Our goal, through the Musculoskeletal Institute, is to offer the best quality care for our patients now, while at the same time vigorously pursuing novel research initiatives that may soon be translated into new treatments and approaches to care."
The Musculoskeletal Institute, one of the Health Center's four signature programs, is a consortium of services to help men and women gain mobility and maintain overall health.
The other signature programs are the Carole and Ray Neag Comprehensive Cancer Center; the Pat and Jim Calhoun Cardiology Center; and the Center for Public Health and Health Policy.
The Musculoskeletal Institute encompasses orthopaedic surgery, including orthopaedic sports medicine, joint replacement, a hand and wrist program and an ankle and foot program, as well as a comprehensive spine center, and expert care for osteoporosis, rheumatologic conditions, and more.
Services are offered on the Farmington campus and include imaging, physical therapy, same-day surgery, and doctor's offices, as well as modern lab space for research and innovations in care.
"One of the most attractive things about the Musculoskeletal Institute is the availability of world-class care, from nationally and internationally known experts, in one convenient location," says Lieberman.
"This is a tremendous resource for the people of Connecticut."
Lieberman is a graduate of Cornell University and received his medical degree from Albany Medical College.
He completed a residency in surgery at Montefiore Medical Center at Albert Einstein College of Medicine in New York, as well as residencies in surgery and orthopaedic surgery at Albany Medical Center Hospital.
In addition, he completed a fellowship in total joint arthroplasty at The Hospital for Special Surgery in New York City and a fellowship in medical education at the UCLA School of Medicine.
He has received many awards, including the Physician-Scientist Award from the National Institutes of Health; the Otto Aufranc Hip Society Award; and the prestigious ABC Traveling Fellowship, a program of the American Orthopaedic Association.