International law has traditionally existed to protect nation states from offenses by other nation states.
But today the question of how - or whether - to address human rights in the framework of international law is being hotly debated, an expert said Wednesday night.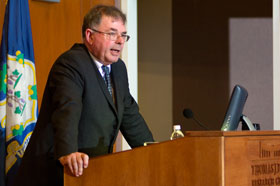 Professor James Crawford of Cambridge University delivers the Raymond and Beverly Sackler Distinguished Lecture on "Human Rights and State Responsibility" at Konover Auditorium on Oct. 25.
Photo by Daniel Buttrey
James Crawford, a professor from the University of Cambridge who has advised governments from Australia to Canada to the United Kingdom on international law and its applications, said human rights pose special issues when efforts are made to cover them by existing international law.
During his lecture "Human Rights and State Responsibility," Crawford said "all states have standing to complain of human rights violations by other states."
But what happens when the violations are being caused by non-state entities, such as rebels? he asked.
The issue becomes even thornier if the state is abetting the perpetrators, but not precisely directing their activities.
An example, he suggested, might be Libya's responsibility vis-à-vis its nationals in the case of the Pan Am airplane destroyed over Lockerbie, Scotland.
Crawford spoke at Konover Auditorium as part of the Raymond and Beverly Sackler Distinguished Lecture Series in Human Rights.
The Sacklers are international philanthropists who have long supported a variety of programs at UConn, including ones relating to art, medicine, and human rights.
Crawford emphasized that his purpose was to describe the status of human rights in international law, rather than prescribe what he might like it to be.
International law, he said, has been comfortable regulating treaties and the seas, to name two examples, but acts by private parties or non-governmental organizations or corporations do not fit neatly into international law as it as been practiced up to now.
Genocide, such as in Rwanda, or what is happening in the Darfur region of Sudan, or what occurred in Bosnia under the guise of "ethnic cleansing," has not been effectively addressed with existing institutions, although there are several, Crawford said.
These range from the U.N. Security Council to the International Court of Criminal Justice and the European Court of Human Rights.
Crawford painted an ironic picture. Although every state in the world has paid lip service to human rights as laid out by United Nations treaties and other documents, atrocities continue and even basic human rights are denied with impunity to wide and diverse populations, he said.
Going back to the Nuremberg trials, he said, nations have wrestled with how best to bring to trial and punish perpetrators of atrocities.
He noted that stopping tragedies from occurring in the first place has been even less successful than dealing with the aftermath of human rights violations.
He lamented that situations like that in Darfur are mired in lengthy processes that yield "a lot of talk" but never seem to provide a resolution.
There are several legal cases that may signal change, however. Several examples come from an unlikely source, the Alien Tort Claims Act of 1789 (ATCA), which gives non-U.S. nationals access to U.S. federal courts to seek damages in cases involving human rights violations outside the United States.
The law was successfully used in 1980 by a Paraguayan man in suing a policeman who had tortured his son to death in Paraguay.
More recently, the transnational company Unocal was sued successfully in 2002 for knowingly using forced labor - compelled in some cases by murder and rape - to construct a gas pipeline from Burma into Thailand.
Crawford said the ATCA is drawing attention from human rights advocates because it seems to provide a mechanism for addressing abuses by corporations, which have up to now tended to fall outside traditional jurisdictions.
"There is no international system of corporate responsibility," he said.
Meanwhile, the International Criminal Court is also being closely watched as it begins to fulfill the role envisioned for it since 2002, to try individuals accused of genocide, war crimes, and crimes against humanity.
The court is taking up the case of a Congolese national accused of forcing children under 15 years of age to participate actively in hostilities in the Democratic Republic of the Congo.
The outcome of that case could provide a precedent for many others; the United Nations estimates that 300,000 children around the world are being compelled to act as soldiers.