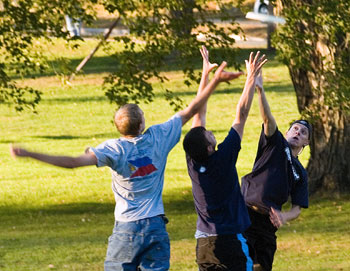 From left, freshmen Scott Hoffman, Dan Galtieri, and Chris Aliapoulios play frisbee beside Mirror Lake.
Photo by Ellen Einkauf
October 9 , 2006 ¦ Volume 25, No. 7

New law clinic to tackle intellectual property cases
The Law School plans to open a new legal clinic in the spring that will give students an opportunity to represent clients in cases involving a growing legal field known as intellectual property law. Read more...
Endowment shows strong return on investments
The University of Connecticut Foundation reported a robust $32 million return on endowment investments in fiscal year 2006, growing the endowment to nearly $300 million. Read more...
Photographer discusses human cost of producing cocoa
The chocolate we eat shouldn't taste good, according to Robin Romano. Romano, a photographer and human rights advocate, has documented the lives of child slaves involved in cocoa production in Ivory Coast. Their suffering, he says, should give people pause when purchasing candy bars. Read more...
Urban Studies students recognized for community work
Jose Avila and Breyonne Golding are both first-generation college students. Both give back to their community, and both are recipients of the 2006 Bastow-Binnie Awards in Urban Studies. Read more...
More headlines...