Jose Avila and Breyonne Golding are both first-generation college students. Both give back to their community, and both are recipients of the 2006 Bastow-Binnie Awards in Urban Studies.
The Bastow-Binnie Awards are part of an endowment given to the Urban and Community Studies programs by Marc Bastow '78 and his wife, Nancy Binnie.
Jose Avila, an Urban and Community Studies major at the Greater Hartford campus, was an average Hartford high school student who knew he wanted to work with children.
With his parents' encouragement, he began his studies at Capital Community College, with his eye on transferring to UConn.
Working in a mentoring and tutoring program for kids, Avila discovered his passion, being a role model for disadvantaged young people.
He started an intramural basketball program, and his soft-spoken demeanor and caring attitude touched many of the students there.
"Some of the kids were really motivated. One kid transferred back to Hartford High. I think I made a change in this kid's life," says Avila.
Avila has volunteered to run another basketball program at Mi Casa, a Hartford center for women and children, during the summer.
During the school year, he works full time as a teacher's aide at Fred. D. Wish Elementary School.
Avila is earning top grades at UConn and plans to continue with a master's degree in social work.
He says he'd eventually like to be a school social worker.
"I am very lucky to have parents who support me," Avila says. "A lot of kids just don't have a role model, and I'd like to be that for them if I can."
Breyonne Golding, an Urban and Community Studies major in Storrs, would like to help Hartford keep its talent in Connecticut by one day becoming a city planner.
The graduate of Hartford's Weaver High was a Lewis Fox Scholar, a program that helps mentor and fund the education of high-potential students.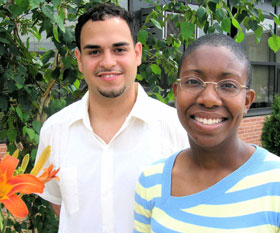 Jose Avila and Breyonne Golding are the first recipients of the Bastow-Binnie Awards in urban studies.
Photo by Lola Elliott-Hugh
With interests in political science, sociology, and art, Golding was drawn to the interdisciplinary program in Urban and Community Studies.
"I see so much potential in Hartford," says Golding.
"Not all the youth are getting in trouble, like it seems in the papers. There are a lot of us who grew up in Hartford and who stayed focused on our studies. People in this community helped me succeed, and I want to be part of helping others in Hartford succeed in return."
Golding began doing community service through UConn's Urban Plunge program.
She has volunteered to work with the elderly, children, and the homeless in Boston, Washington D.C., and Philadelphia.
"Volunteering is about helping others, but in the end it is what you get back from the experience that changes you," she says.
During the 2005-06 academic year, Golding studied in South Africa, where she participated in a program for HIV education.
"I went out and spread the word to people in the community about HIV workshops they could attend," she says.
Golding says she would like to remain in Hartford when she graduates from UConn, and plans to be active in helping make the city a better place to live.
When the donor of the awards, Marc Bastow, came to UConn in the 1970's, he "found a home" in the Urban and Community Studies program, according to his academic advisor, Peter Halvorson, now an emeritus professor.
"Since his experience at the University helped set a path for his later success," Halvorson says, "Marc and his wife wanted to give something back to the program. The endowment was a wonderful surprise."