Researchers at the UConn Health Center are studying whether an enzyme found in pineapples may offer relief for the millions of people who suffer from asthma.
Bromelain, extracted from the juice and stem of the pineapple plant, appears to reduce inflammation associated with asthma.
"Studies on bromelain go back to the 1950s," says Dr. Eric Secor, a naturopathic physician and NIH Post Doctoral Fellow in the laboratory of Dr. Roger Thrall, Department of Immunology.
"But most of those initial studies looked at bromelain's effectiveness on conditions such as arthritis, muscle contraction, or swelling."
Secor's research is focusing on bromelain's impact on asthma and the immune system. Asthma rates may be stabilizing across the country but not in New England, where they continue to rise.
According to a recent study by the Asthma Regional Council, Connecticut has the highest rate of asthma among adults, at more than 15 percent.
Many turn to over-the-counter remedies for relief, which include herbs and nutritional supplements. Bromelain, especially popular in Europe, is typically taken in capsule or pill form, and millions of doses are sold every year.
Bromelain's potency and popularity as a healing agent stems from a specific enzyme it contains that may have protective effects on a number of different ailments.
The pineapple extract has been used clinically as an anti-inflammatory agent in rheumatoid arthritis, soft tissue injuries, colonic inflammation, and chronic pain.
But along with most natural therapies, there are no definitive studies that prove its effectiveness.
"Bromelain is extremely popular, but my goal is to help determine whether it really is effective in treating asthma or are consumers just wasting their money," says Secor.
In a study published in Cellular Immunology , Secor found bromelain treatment appeared to reduce the inflammation associated with asthma.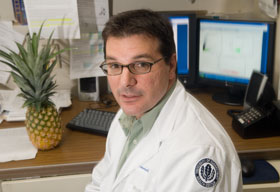 Dr. Eric Secor at the Health Center is conducting research on the effectiveness of bromelain, an extract of pineapple, on asthma and the immune system.
Photo by Peter Morenus
He and his research team tested three groups of mice that were induced with acute asthma: a control group, and two groups treated with either 2 mg or 6 mg of bromelain per kg.
All the mice were treated for four days.
The researchers found that bromelain significantly reduced the total white blood cell count, which increases with the onset of asthma, compared to the control group.
Furthermore, eosinophils, the main inflammatory cells associated with asthma, were reduced by more than 50 percent in the lungs of the mice following treatment with bromelain.
No such changes were seen among mice in the control group.
Since that first study, Secor has done several more experiments on different phases of the disease, for instance, an acute asthma model or a chronic model that shows bromelain's effectiveness on mild to moderate symptoms.
He hopes these studies will help lay the foundation for human clinical trials.
Bromelain may work better for those with mild or moderate asthma symptoms, or it could be used in conjunction with prescription medications.
"Maybe it could cut down on steroid use - the standard treatment for asthma patients - and thus decrease the side effects sometimes seen with long-term steroid use," Secor says.
But for now, he doesn't see the pineapple extract being used as a primary treatment for asthma. "Asthma is a very serious disease. It can be life-threatening," he says.
"I don't want people throwing away their inhalers."