To laymen, the term "carbohydrate" might evoke thoughts of bread, sugar, pasta, or a diet plan.
But for Mark Peczuh, an assistant professor of chemistry, carbohydrates are molecules worthy of manipulation.
Peczuh, who recently won the 2006 American Chemical Society New Investigator Award in Carbohydrate Chemistry, conducts research with what are called septanose carbohydrates.
The prefix "sept" indicates "seven" and the suffix "ose" is for "sugar." Peczuh explains: "Most natural carbohydrates are composed of six atom rings, but we are making septanoses that contain seven atoms."
The award, presented by his peers, cited Peczuh (whose name is pronounced "pee-zee") "for demonstrated excellence in and promise of continued quality contributions to research in carbohydrate chemistry."
The implications of such a change at the atomic level are vast, he says.
"Learning how to synthesize this new molecule in the laboratory is in and of itself significant," he says, "but the exciting part is what happens when the new molecule interacts, for example, with proteins."
Depending on the nature of that reaction, the result may be a "therapeutically interesting protein," Peczuh says.
Changing the natural way proteins and carbohydrates interact can potentially lead researchers toward new therapies for diabetes, fungus infections, and immune system disorders, including HIV, he adds.
"A blood-borne fungal infection, for example, is not easily fought with traditional drugs, but a drug that could take advantage of a new, manmade property of carbohydrates and break through a fungus cell wall might be an effective treatment," he says.
Because fungi also attack plants, Peczuh's research could also one day prove useful to agriculture.
Among other techniques, Peczuh and his colleagues use a tool called nuclear magnetic resonance (NMR) spectroscopy to gather detailed information about a molecule's structure.
They typically look at the nuclei of hydrogen and carbon in the materials they analyze. These elements are abundant in carbohydrates.
Peczuh, 34, came to UConn in 2001.
He earned his bachelor's degree at Boston College; master's at the University of Pittsburgh; and doctorate from Yale University.
He was a National Institutes of Health postdoctoral fellow at Princeton from 1999 to 2001.
His UConn department head, Steve Suib, says Peczuh's prominence in his field is unusual, given his youth.
"To have received the award he did at this stage of his career is certainly rare," Suib says.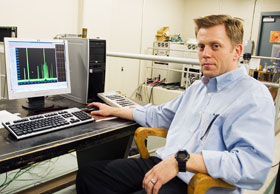 Mark Peczuh, assistant professor of chemistry, is using nuclear magnetic resonance spectroscopy to study carbohydrates.
Photo by Stephanie Gagliardi
"He's a rising star in our department."
For the non-specialist, a visit to Peczuh's lab in UConn's Chemistry Building is a little like peering into a restaurant kitchen after a busy night.
The tools of the organic chemist are everywhere - flasks and burners, tubes and pipettes, all tended by students working experiments on their own time and stopping occasionally for a bite of pizza.
At basement level, to take advantage of the earth's bedrock, the delicate NMR spectroscopy equipment is used to expose the mysteries of molecules, much as similar technology - magnetic resonance imaging (MRI) - is used to look closely at troublesome human body parts.
The NMR spectroscopy equipment figured prominently in the advances that caught the eye of Peczuh's peers and earned him the ACS award.
The NMR was used to analyze the interactions between a carbohydrate binding protein and five new septanose molecules synthesized by Peczuh over a two-year period.
The molecules were stimulated by radio waves to populate different energy states, while a software package took the machine's data and transformed it into visual imagery that can be appreciated as art, as well as science.
The same molecules analyzed by the NMR equipment were also studied simultaneously using a different technique, as a sort of quality check.
Results from the two techniques correlated neatly, leading Peczuh to "something close to a eureka moment."
That moment came when Peczuh and his graduate students compared results. "We said, 'Wait, this is not what we expected. It's essentially the opposite,'" he said.
"But we realized we'd better believe what we were seeing, and now we're trying to explain what's going on."
As that process advances, many different outcomes are possible.
The new septanose carbohydrate molecules could attract the attention of a biotech company that could fund further research toward specific ends.
Or, the molecular properties might turn out to be interesting as pure science, but without apparent application outside the lab.