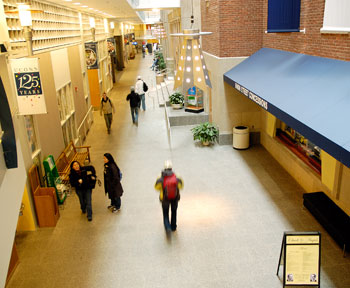 Students stroll down Union Street in the renovated Student Union.
Photo by Melissa Arbo
February 13, 2006 ¦ Volume 24, No. 20
Publication Notice:
The next issue of the Advance will be published on Tuesday, Feb. 21, owing to the public holiday on Monday.

Budget issues focus of new legislative session
Gov. M. Jodi Rell had no surprises for UConn officials when she opened the 2006 legislative session last Wednesday with a wide-ranging state of the state speech at the state Capitol.
Explaining nuances of science no easy task
As the Connecticut state ornithologist, Margaret Rubega often talks to the public and the press about birds and the environment. Like a lot of scientists, she has felt uncomfortable explaining the nuances of scientific issues in simple, "sound bite" language.
Playwrights' work on Prudence Crandall to be staged at Nafe Katter Theatre
A rich chapter of Connecticut history will come to life on the stage from Feb. 23 through March 5, as the Connecticut Repertory Theatre presents the world premiere of Prudence.
UConn, Mystic Seaport agree toshare resources
The University and Mystic Seaport have signed an agreement to share resources, fund raising, and even faculty and staff. The agreement says the museum's maritime history resources will be available to UConn students and faculty, while the University's library resources will be available to Mystic Seaport staff.
More headlines...