Brenton R. Graveley says he may have the perfect job.
"For the most part, I have the freedom to study what I want," says Graveley, an associate professor of genetics and developmental biology at the Health Center. "If I find something interesting, I can do experiments to find out how it works. Basically, I try to figure out how life works. Occasionally in the lab, we figure out things no one else in the world knows.
"Research is exciting," he says. "Every day is completely different. Sometimes in an investigation you think you know how something works. You do an experiment and learn it's completely different from what you expected. When that happens it's even more exciting."
His primary interest is how genes are "turned on" and "turned off" at different times in development, or in different cell types, and how that affects the development and function of an organism.
The work investigates the process of alternative splicing, the way in which one gene can give rise to multiple proteins. The process holds important consequences for the development of the organism.
One gene he studies in the fruit fly, called the Down syndrome cell adhesion molecule (Dscam), can make more than 38,000 proteins. That's a lot, he says, considering there are only about 14,000 genes in the fruit fly.
"The Dscam gene plays important roles in determining how brain cells are connected, as well as how the fruit fly is able to defend itself against pathogens," he says.
He also studies planarians, worms that can completely regenerate themselves. Cut a piece off and the piece becomes a new worm. The entire organism is filled with stem cells, he says, so the study of it naturally becomes the study of stem cells.
"How does it do that?" he asks. "That's what we're trying to figure out. We're working to identify the genes that control the regeneration process."
Graveley came to the Health Center in 1999. He was the first faculty member hired by Marc Lalande, chairman of the newly created Department of Genetics and Developmental Biology.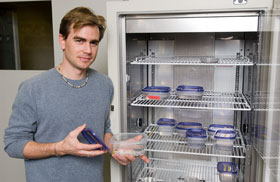 Brenton Graveley, associate professor of genetics and developmental biology, holds a sample of planarians at his lab.
Photo by Peter Morenus
A graduate of the University of Colorado, Boulder, Graveley did his graduate work at the University of Vermont and a post-doc at Harvard.
His seminal moment came when, as a freshman journalism major, a school computer error placed him in a molecular biology class. The professor was David Prescott, a member of the National Academy of Sciences, and the class was so intriguing, that Graveley was hooked.
"From day one, I fell in love with that class," he says. "I never knew molecular biology existed and at the end of that semester, I was doing research in his lab.
"From freshman year I knew I wanted to be a molecular biology professor," he adds, "and here I am."
In addition to research and teaching, Graveley is a member of the Health Center's research recruitment committee and is excited about his role in shaping the institution's academic future.
"The goal of our lab is not to cure a specific disease, but to understand how life works," he says.
"That information is absolutely necessary to try to cure human diseases, and it is only discoverable through basic research.
"In order for the Health Center to be one of premier research institutions in the U.S., it needs to put effort and resources into hiring faculty who do the very best basic research," Graveley adds, "and create an outstanding research environment that will build the bridge between clinical and basic research."