When Cyrus "Ernie" Zirakzadeh was an undergraduate at the University of Michigan, aptitude tests indicated he was "strong science and mathematics material," but "not a good bet" for the humanities and social sciences.
"I decided to challenge a stereotype and to major in political science," says Zirakzadeh. A well-intentioned professor of Spanish who was assigned as his first-year ethnic mentor – Zirakzadeh is part Guatemalan – quit that role, certain that a path in political science for this student would lead to certain disaster.
But Zirakzadeh was persistent. He joined the honors program and found another advisor. Today, he is a professor of political science at UConn and author or co-author of four books, one of which received a Choice Outstanding Academic Book Award. He has been involved in research on social movements in various parts of the world for the past 25 years, and has written about the way political problems are portrayed in American literature and film.
Zirakzadeh, who earned a master's degree from Stanford and a doctorate from the University of California at Berkeley, directed the Honors Program for five years.
"My rebellious decision contributed to my belief that is possible for a person to grow intellectually in unanticipated ways," says Zirakzadeh, a 2005 University Teaching Fellow. He carries that belief into his own teaching.
"I assume that every student in my class has immense potential that neither the student nor I can fully appreciate," he says, noting that his role is to "help each student in his or her journey of self-discovery and foster confidence."
Students need to take risks, but they've been educated not to, Zirakzadeh says. "I want to help them see why they should be more confident." That's why discussions in his classes are important.
"I don't want them to hide behind others' ideas," he says. "Helping students to define their verbal skills is one of the most important gifts a college professor can give a student."
He often plays music relating to the topic of discussion, and even has students write poems.
"The idea of writing poetry about something like revolution is to break free of rote definitions and to relate the concept to one's personal experience," he says.
He illustrates points with humor – telling stories from his own life and drawing cartoons on the board.
On one recent day, during a graduate seminar on comparative social movements, students have just watched the film, Running on Empty.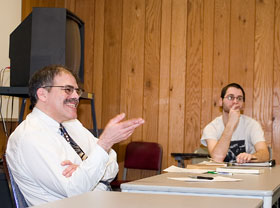 Cyrus "Ernie" Zirakzadeh, left, a 2005 University Teaching Fellow, holds a discussion with graduate students during a Comparative Social Movements class.
Photo by Jordan Bender
When the lights were turned on, before a discussion about a book on totalitarianism, Zirakzadeh popped in a CD of Peter Green and the Bluesbreakers.
Zirakzadeh's students say he is an excellent teacher.
"His teaching style reveals his passion for his work and his interest in his students as both scholars and individuals," says Joe Goldman, a senior majoring in political science. "He encourages questions and disagreement, and is completely unbiased. He pushes us to think, write, and express ourselves at a very high level."
Zirakzadeh enjoys both teaching and writing, but says the latter can be a bit isolating. "When you write, you're sharing thoughts, but you're physically alone," he says. "In a classroom, you see faces, hear remarks, and have a social experience. You're directly helping students flourish and develop."
Robert Bosco, a Ph.D. candidate in political science, says, "What makes Ernie so effective is that no matter how self-evident a concept seems, he insists that you attempt to articulate it in your own words, and not rely on the language in which the idea is given to you by a book. When you do this, you realize that ideas you thought were simple and straightforward are actually more complicated and ambiguous than they seem."
Malia Bajpai, a master's degree candidate in political science, enjoys his sense of humor and "clever way of telling stories that illustrate political science concepts."
Bajpai, who says she tries to base her teaching style on his, likes how he encourages students to "think outside the box. He teaches us that presenting our research in a way that differs from the mainstream will make us stand out as scholars."
What does Zirakzadeh hope students will take away from his classes?
"Confidence," he says. "I want them to believe, and feel their opinions count."