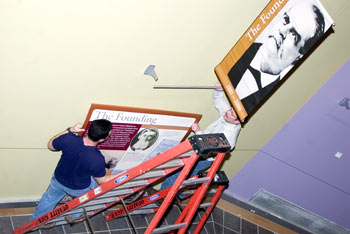 Preparations are underway for the University's Anniversary celebration, to take place at the atrium in the Wilbur Cross Building.
Photo by Jordan Bender
January 17, 2006 ¦ Volume 24, No. 16

Settlement with feds includes increased compliance procedures
The University has reached a settlement with the U.S. Environmental Protection Agency arising from issues related to past research practices at the Environmental Research Institute and the Booth Research Center.
UConn's 125th anniversary to start with celebration, exhibit in Wilbur Cross
Faculty, staff, students, alumni, donors, and members of the Mansfield community are invited to the University of Connecticut's 125th anniversary kick-off celebration Jan. 25, from 4 to 6 p.m., in the atrium of the Wilbur Cross Building.
Two engineering departments to merge, offer joint program
The Departments of Chemical Engineering and Materials Science and Engineering will be merged to form a new Department of Chemical, Materials, & Biomolecular Engineering. The merger, an outgrowth of the School of Engineering's strategic plan, will be effective July 1.
Physician urges medical students in India to pursue research careers
A Health Center physician-researcher has put together a team that may change the way population-based and clinical research is conducted in India.
More headlines...