A Health Center physician-researcher has put together a team that may change the way population-based and clinical research is conducted in India.
During the past four years, Dr. Thiruchandurai V. "T.V." Rajan, a professor of immunology at the Health Center, has led a team of faculty members to India to visit allopathic medical schools and conduct workshops for students on how to do population-based and clinical research.
Traditionally, Indian medical school graduates become clinicians, not researchers. Rajan's team offers the young doctors an alternative way to improve the health of India's vast population.
"When I graduated from medical school in India in 1969, I wanted to do research," Rajan says, "but there was no role model of the physician-researcher. All the investigators at the research institutions held Ph.D.s rather than M.D.s.
"When I said I wanted to do basic bench research, they told me I should go to the U.S. So I came to this country and started my career as a basic researcher."
Thirty-five years later, he's committed to encouraging and mentoring talented Indian physicians who may prefer to investigate medical issues rather than treat patients.
Members of his team include Dr. Scott Wetstone, associate professor of community medicine and health care, and director of health affairs policy planning; Steven Delaronde, adjunct assistant professor of community medicine and health care, and Dr. Edwin Michael of the Department of Public Health and Primary Care at Imperial College, London.
"The trips to India have been interesting and very successful," says Wetstone. "The goal is to take Indian medical students who are interested in population or clinical research and supply them with the tools to do it.
"We demonstrate for them that doing clinical and population research is important for India, but it's also important for those of us outside India," he says. "If a disease behaves differently in India and you can figure out why, it could have important implications for prevention or early diagnosis in other countries too."
Research possibilities abound, particularly for doctors. Some diseases do behave differently in India, and certain diseases, such as leprosy, occur there that are not commonly found in the U.S. or other developed countries.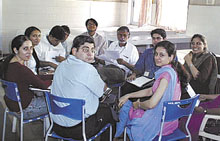 Dr. "T.V." Rajan, center, wearing a white shirt, leads a small group discussion with medical students in India. RAjan travels there each year with a faculty team to encourage medical students to pursue research careers.
Photo supplied by T.V. Rajan
The team has visited medical schools in Bombay, Madras, New Delhi, and other cities. The workshop consists of intensive classes in epidemiology, biostatistics, and methods of proposing a research project.
Additionally, colleagues from the India Council of Medical Research – the Indian equivalent of the National Institutes of Health – hold classes on the ethical treatment of human subjects as well as on issues of local health importance.
Small group discussions – a staple of medical education at the Health Center but not common at medical schools in India – are held in the afternoon, with comment, analysis, and reaction solicited from the students.
The instructors use American snacks – Oreo cookies, potato sticks, applesauce, and Snickers bars – to rapidly connect with the students and promote their participation.
The official response to the initiative has been positive. Where formerly there were none, the Indian government now offers 500 fellowships for physicians to participate in summer research projects.
Rajan says he is realistic about what the team can hope to accomplish.
"We don't believe we can change the culture overnight. We don't expect the Indian medical establishment to embrace our vision immediately," he says.
"More than anything else our goal is to tell young Indian medical students, 'Look, if you want to do research rather than practice, it's OK. You should not feel required to defend your decision.'
"I am absolutely energized by the students' reactions," adds Rajan.
The group is working to secure more permanent funding to ensure that the initiative will continue on a regular basis.