Chris Vimini had seen it on the news, but as he lugged limbs from uprooted trees and moved appliances from shattered homes in Biloxi, Miss., it was all too real.
"It's devastating," says Vimini, a UConn student volunteer who spent part of his winter break gutting damaged houses and removing debris in one of Biloxi's poorest neighborhoods. "What you see in pictures only gives you a glimpse of what it's really like."
Vimini, a junior majoring in political science, is one of 54 volunteers from the University who traveled to Mississippi to help the cleanup efforts in the aftermath of Hurricane Katrina. Forty-nine students and five staff members were recruited by UConn Community Outreach's Alternative Breaks Program, to work in collaboration with Catholic Relief Services, to spend a week in Biloxi.
"I wanted to make a difference," Vimini says.
Also, 16 students from the School of Law spent a week of their winter break volunteering at various legal aid offices in Shreveport, Covington, and New Orleans, La. They provided legal assistance, under the supervision of practicing attorneys, to people affected by the hurricane. The students worked with the Student Hurricane Network, a national association of law students and administrators who provide long-term assistance to communities in the aftermath of hurricanes.
The groups' hands-on work was part of a University-wide effort to help the victims of one of the worst natural disasters in U.S. history.
"Students, faculty and staff from all areas of the University came together to raise money and collect supplies to support victims of the hurricane, with groups working on projects individually and collaboratively," says Matt Farley, UConn's coordinator for community outreach. Financial contributions have reached the set goal of $75,000.
A UConn Hurricane Katrina Relief Organization was formed last semester by students, who coordinated the efforts of many student groups across campus. Student Union staff and volunteers sorted, packed, and shipped supplies to major organizations, and Transportation Services provided buses, drivers, and volunteers to deliver the goods collected to various drop-off points in Connecticut.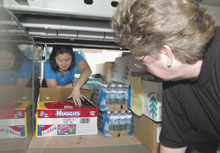 Kim Schwarz, left, operations manager at the Student Union, loads a UConn bus last fall with donations for victims of Hurricane Katrina, as Janet Freniere, transportation services administrator, looks on.
Photo by Peter Morenus
The Division of Athletics and the Student Athletic Advisory Council raised $30,000 by collecting donations from fans at a Sept. 10 football game. Dining services raised nearly $12,000 by accepting donated meals in campus dining halls. The Pharmacy Student Government raised $7,000. And a pharmacy professor offered a two-hour stand-up comedy routine that brought in $600 in ticket sales: funds raised were given to the Xavier University College of Pharmacy in New Orleans.
Transportation Services collected $2,000 by placing five-gallon water bottles in UConn's shuttle buses to collect change.
"One person put in a $50 bill," says Janet Freniere, transportation services administrator. "We also received some sizeable checks."
Transportation services, in collaboration with other groups, also collected new clothing and supplies and delivered a busload of items to a warehouse in Stamford.
Ongoing efforts include the Neag School of Education and Graduate Student Association's yearlong campaign to provide supplies to an elementary school in Louisiana.
Fund-raising efforts benefited organizations including the American Red Cross, Habitat for Humanity, United Jewish Charities, the Salvation Army, Goodwill, Save the Children, the Humane Society, and America's Second Harvest.
The University allowed Connecticut residents enrolled in colleges and universities affected by the hurricane to study at UConn during the fall semester, tuition-free. Forty-one students, including 33 undergraduates, took up the offer, and attended classes at the Storrs, Hartford, and Waterbury campuses, the Health Center, and the School of Law. Some are continuing this semester, but will be paying tuition.