In a move she describes as "bittersweet," law school dean Nell Jessup Newton will leave Connecticut later this year to become dean of the University of California's Hastings College of the Law. Newton is a graduate of Hastings.
"I have turned down many opportunities since I came to UConn," says Newton, "but I could not turn down the opportunity to go home to San Francisco and my alma mater."
Newton came to UConn from the University of Denver College of Law in August 2000.
She graduated from the University of California at Berkeley in 1973 before attending Hastings. She began her career at Catholic University in Washington, D.C., where she was the first female full professor. In 1992, she became a faculty member at American University's Washington College of Law.
Newton says a search for her replacement will take place this spring.
"During the past five and a half years, Nell Newton has provided exemplary service to the law school, the University, and the state of Connecticut," says UConn President Philip E. Austin. "She has worked tirelessly and effectively to enhance the quality of the school's program and its base of support within the state and throughout the legal community, and leaves the law school in very good condition."
During her time at UConn, Newton doubled the school's annual fund, attracted millions in gifts, and presided over the creation of two popular certificate programs on taxation and intellectual property.
In addition, the percentage of students pursuing judicial clerkships after graduation grew to "an astounding 18 percent of the graduating class," says Newton. And the number of conferences and talks held at the school increased, including a visit by Supreme Court Justice Ruth Bader Ginsberg, as well as international jurists from France and South Africa. In April, Supreme Court Justice Antonin Scalia will speak at the law school.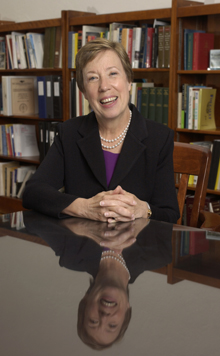 Nell Jessup Newton, dean of the law school, will become dean of the Hastings College of Law at the University of California later this year.
Photo by Peter Morenus
Newton fostered the school's growing visibility in the field of international human rights, including the establishment of a highly successful asylum and human rights clinic.
"Dean Newton has been a superb leader for the School of Law," says Provost Peter J. Nicholls. "She has emphasized the importance of high academic quality through the recruitment of outstanding faculty and the admission of strong students into the law program; recognized the importance of fund raising in support of academic priorities; and made alumni support a high priority during her administration."
Newton is known as a national authority on Indian law, an interest that developed when she was in law school and worked for California Indian Legal Services during a summer. She has spent 25 years working on the subject, along with her other focus, constitutional law. She is the co-author of a leading textbook on Indian law, Cases & Materials on American Indian Law, and is editor-in-chief of the 2005 edition of the only scholarly treatise in Indian law, Cohen's Handbook of Federal Indian Law.
Newton says she will miss Connecticut. "The UConn faculty is possibly the most collegial on the planet, the staff are amazingly dedicated, and our students are smart and ambitious without being the least bit cut-throat," she says. "I will always hold UConn close to my heart."