The College of Liberal Arts and Sciences wants to update its web site, but with 22 departments and more than 600 faculty members, it's a formidable task.
The undertaking will be easier, however, with an online web page template designed by university communications.
The template, which can be downloaded from http://www.uconn.edu/templates/, is designed to give any UConn web page a consistent look.
"The web has become one of the University's most important communications tools, and we are paying a lot of attention to how we use it most effectively to help achieve the institution's goals," says John Barry, director of university communications. "The templates allow UConn to present itself on the web as a singular and powerful university brand."
Cindy Weiss, publicity and marketing manager for the College of Liberal Arts and Sciences, is overseeing the college's web site redesign. She welcomes the new template.
"The design is terrific, and it has the University look," she says. "People don't necessarily enter our web site through the University's homepage. With a consistent design, it will be easier for them to navigate."
Weiss says the college hopes the redesigned web site will be a better tool for communicating with its external audiences, including the more than 60,000 liberal arts and sciences alumni, donors, and undergraduates at other universities who are interested in applying to UConn for graduate school.
"The web site is a huge recruitment tool," she says.
Currently, web pages for the college's 22 departments "all look completely different," she says. "Some departments, such as history, journalism, marine sciences, and political science, have already used the template and look good, but apart from those, there's a patchwork of looks."
The template is modeled on the University's home page. The banner is UConn blue, with the University logo at the left and space for the department, school, or college's name in the center, both in white. The template provides both fixed and flexible elements, including navigation tools, text format, guidelines for images, and a palette of acceptable colors for areas other than the banner.
Content can be copied from an existing web page and pasted into the template.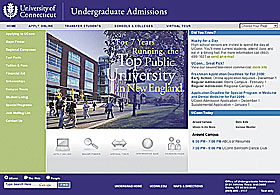 Undergraduate Admissions Homepage
"The template enables each school, college, or department to bring its pages into the new look, with enough elements to be consistent with the UConn web identity, but sufficient flexibility to accommodate the particular needs of the unit," says David Martel, manager of marketing communications.
The template can be adopted for department, school, or college sites by anyone with some knowledge of web editing software, such as Dream- weaver, FrontPage, or Composer.
It was developed earlier this year and tested on a pilot basis with a handful of departments, schools and colleges during the summer. In response to feedback, university communications staff made some changes to the template and developed an online self-help "tutorial."
Consistency among the University's web pages is also expected to make it easier for users to find the information they need.
"In the web's short history, web design has been decentralized," says Martel, "and the result has been a lack of continuity that has made it difficult for users to navigate from one University site to another."
Barry says higher education institutions across the country are finding it a challenge to have standardization across their web domains.
"Some smaller colleges have an integrated web site," he says, "but large universities are much more decentralized, with the result that their web pages lack cohesion. We are becoming one of the few major universities to begin to harness the power of a unified identity in the web environment."
Barry adds that the template saves departments money that would otherwise be spent on web design consultants.
In addition to the departmental templates, a separate template for individual faculty and staff members who want to launch their own University homepage is expected to be available on the web next semester. The format will include such standard items as vita, publications, and research interests.