In honor of the 125th anniversary of the University of Connecticut's founding, the University community is invited to choose and name the Dairy Bar's newest ice cream flavor.
Three special new flavors can be sampled on Thursday, Dec. 1, beginning at noon in the Student Union. Voting to select one flavor to honor the University's 125th anniversary will take place at that time. Paper ballots will be available at the sampling site in the Student Union, and throughout the day voting will also take place through online, through polls on the University's home page, and the student and faculty/staff web sites. Those with University e-mail addresses (@uconn.edu) will also be able to suggest a name for their favorite flavor.
The sample flavors will be made on Nov. 29, by students in David Dzurec's First Year Experience class. Dzurec, an associate extension professor in the animal science department, is creating the flavors.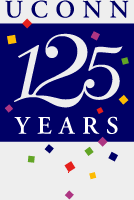 Once the winning flavor is chosen, the next round of balloting will choose the name from suggestions gathered in the poll.
On Feb. 10, the name of the new flavor will be revealed at SUBOG's annual One Ton Sundae event. The creator of the selected name will be recognized and receive a prize.
"One lucky person has the chance to be linked with the actual naming of the commemorative flavor," says Kevin Lenhart, president of SUBOG. "If the ice cream is a hit, this person could be remembered forever."
The new ice cream flavor will be available at UConn's Dairy Bar throughout the year-long 125th anniversary celebration.